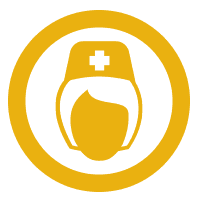 Luther Manor's Skilled Nursing Facility (SNF) provides a dedicated team of specially-trained staff members and medical professionals ready to deliver high-quality care for those in need of 24-hour skilled nursing. By evaluating the unique challenges faced by each patient, our skilled nursing facility can create an individualized treatment plan. We care for you as though you were members of our own family! 
Whether you're in need of long-term care to manage a chronic condition or senior care services to help recover from an injury, our skilled nursing facility puts your wellness as a top priority.  
Discover Expert Skilled Nursing in Wauwatosa
Our Skilled Nursing Facility provides assistance with the activities of daily living such as meals, medication administration and wound care. An in-house physician is present five days a week and a wound nurse practitioner visits weekly to collaborate with physicians and the nursing staff. At our skilled nursing facility, we are dedicated to ensuring that you have the highest level of professional and compassionate care.
Skilled Nursing residents also have access to a variety of healthcare services during normal business hours. Our skilled nursing facility is proud to offer rehabilitation therapies, ophthalmology, dentistry, podiatry, and geriatric psychiatry all conveniently located in the on-site clinic. Come see firsthand what sets our community apart from other skilled nursing homes. Contact our skilled nursing facility today and learn more about all our senior care services.
I continue to be amazed at all the things Luther Manor has to offer. Today, my brother was able to get a test done right there rather than go to Froedtert Hospital. He often tells me all about his meals! The best Christmas present I could have was to know he's in a good, safe environment.