Assisted Living in Mequon, WI
Luther Manor at River Oaks
Luther Manor at River Oaks is a boutique-style assisted living community nestled in a scenic wooded area overlooking the Milwaukee River. With just 16 residents, our staff knows you, your preferences and your family, and has the time and ability to provide truly personalized care and attention. Our small size also means you're a part of a relaxed, close-knit group of friends and neighbors who feel a lot like an extended family.
Our ranch-style design features a cozy atmosphere reminiscent of a family home. Inside, you'll find a large open area for socializing and dining. Around back, a three-seasons deck offers picturesque views of the woods and river while a front deck provides sunshine, fresh air and people-watching.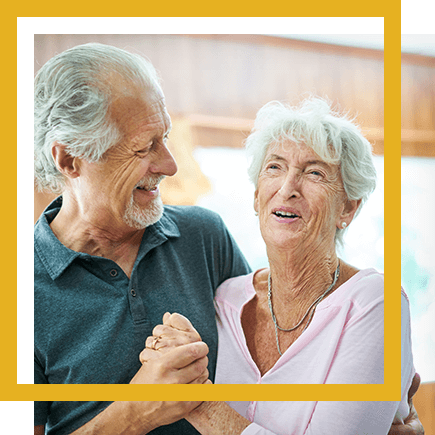 Catering to Your Needs
At River Oaks, our highly trained staff provides help with bathing and dressing, medication management and more in the comfort and privacy of your own studio suite with full bath. Here, it's all about choices. We adapt and change to meet your needs with flexible services that put you first. You'll even find a wide variety of floor plans. With each one furnished and decorated to a resident's taste, our community feels as unique and personal as the care we provide.
Respite Care for Families
For families who need a break from caring for a loved one, we offer respite care assisted living in a private studio. Available for 7 to 28 days, our respite care program provides trusted care and support for your loved one in a secure, stimulating setting. While they make friends and try new activities, you get the break you need and deserve.
Services Included
24-hour onsite care
Three meals a day and snacks
Utilities (except phone)
Basic cable TV
Daily medical monitoring
Medication administration
Assistance with bathing, dressing and grooming
Daily reminders for and help getting to meals and social activities
Housekeeping services
Laundry services
Emergency call light system
Pastoral care
Life enrichment opportunities and day trips
Amenities
Home-style dining
Scenic outdoor setting with two decks and a walking trail
Comfortable common areas, including kitchen, dining room and living room with fireplace
Onsite hair salon
Transportation to medical appointments (for a fee)
Sample Life Enrichment Programs
Musical programs
Interactive kitchen, chef cooking with residents
Fitness and wellness classes
Crafts
Cards and games
Holiday celebrations
Worship services