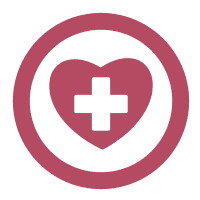 We believe all people are created in the image of God and we honor Him by surrounding those nearing the end of their lives, as well as their loved ones, with compassionate and understanding Hospice Care. Hospice can be an emotional time for you and your loved one. But our senior hospice services strive to provide expert support so your family can foster meaningful experiences.
Our services may be provided with a physician referral. A member of the Luther Manor Hospice Care team can work directly with your personal physician, on your behalf, to determine your eligibility. Our hospice team works to handle as much as possible so you and your loved one can enjoy the special moments in life.
A Supportive & Collaborative Approach to Hospice
In hospice care, you and your loved ones have the opportunity to make decisions about end-of-life care, while being supported by a dedicated, compassionate staff of physicians, nurses, chaplains, social workers and counselors. At Luther Manor, we believe those in need of senior hospice services deserve the highest quality of life possible.
All medical services are coordinated through the direction of your personal physician. In addition to providing in-home care during planned visits, a Luther Manor hospice nurse is on call 24-hours a day. When you choose Luther Manor for end of life care, we work to ensure the support you need is within reach.
Luther Manor Has Open Hospice Services
At Luther Manor, our hospice services are open to everyone. While we offer senior hospice services, our expertise allows us to help support hospice patients of all ages and their families. Our goal is to provide you with expert care and services so you can focus on creating supportive experiences with your family. For more information about our hospice services, please contact our friendly team today by calling the number below.
Got Questions for Us?
If you're interested in learning more about what makes our hospice services so special, contact us today. We'd be glad to talk with you personally or email you directly with a response to whatever question you may have! Call us at 414.847.3041 or email us at [email protected]
No family ever wants to walk through the palliative care journey with a loved one, but our recent experience with the Luther Manor Hospice team was outstanding! We had engaged the services of another local hospice two years ago as another of parents had passed, and our experience with Luther Manor was FAR superior. The staff's professionalism reassured us and their compassion comforted us throughout this difficult time. The nurses, social workers, chaplains and CNAs were ALL outstanding. Cannot recommend highly enough!
You have our most heartfelt gratitude for all of the loving care that you gave to [our loved one] in her final days. We appreciated your amazing blend of compassion and professionalism. Our entire family felt supported and informed throughout a difficult time.
Everyone was patient, kind and willing to do whatever it took to make my mom feel comfortable. For this we are very appreciative.
Thank you very much for the loving care you gave my father. Your patience and concern were evident as you visited with him and attended to his physical and emotional needs. I felt a sense of relief and comfort knowing that you were there when I or family could not be. You were keeping him company at those times, which is such a special and vital element of the hospice program – and an important need of patients. I especially loved the event when you honored him as a veteran. I knew he did as well. He told stories I had not heard before! As a family, we are comforted to know that he is now free from pain and happy in Heaven with his sister. We are so grateful for your part in caring for him in his last days.