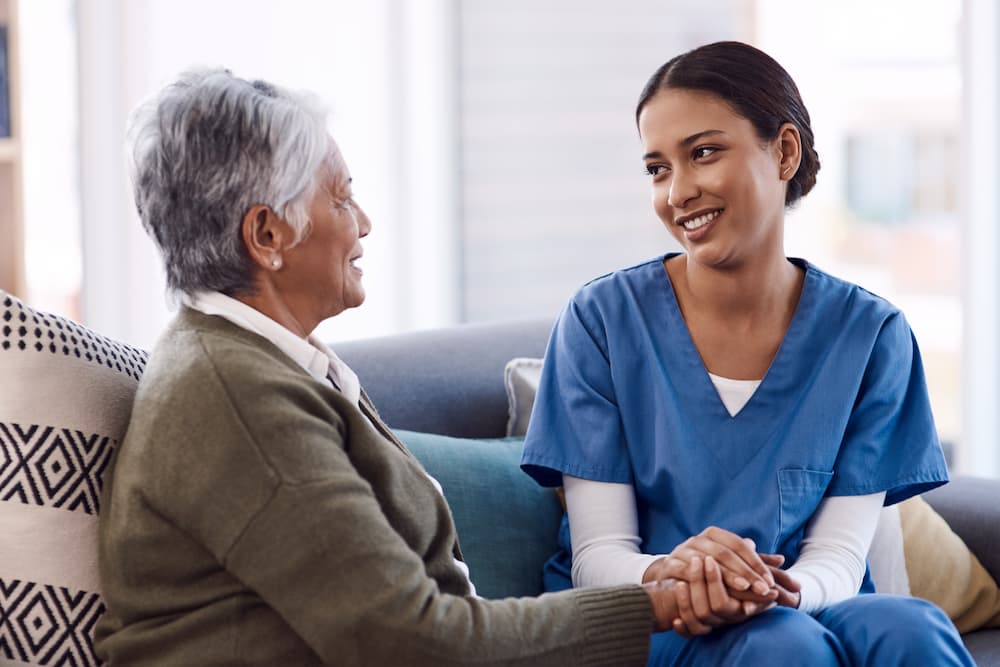 Florence Nightingale once likened nurses' work to the finest art created by painters and sculptors. Nursing isn't just a profession but an artistic pursuit that requires profound devotion and preparation.
While artists work with lifeless materials like canvas or marble, nurses care for the human body's physical, emotional and spiritual well-being — the temple of God's spirit. Nightingale, the most pioneering and influential nurse in history, believed the exclusive devotion and deep understanding of the complexities of the human body and spirit elevated the nursing profession to the status of an art form.
And here at Luther Manor, we couldn't agree more. The meaningful difference nurses and certified nursing assistants (CNAs) make in the lives of our residents is nothing short of a masterpiece. They provide compassionate and unparalleled health care services, promote wellness and make a meaningful difference in the lives of older adults.
May and June are months to honor the nursing profession and encourage understanding and appreciation of their invaluable contributions. May was National Nurses Month, with May 6 designated National Nurses Day. May 12 marked Florence Nightingale's birthday and International Nurses Day. Certified Nursing Assistants Week runs June 15-21, with CNA Day celebrated June 17.
Culture of Support and Collaboration Benefits Everyone
Luther Manor fosters an environment that values and appreciates our employees who, in turn, hold a deep regard for the residents they serve and care for. When it comes to trust, pride and camaraderie in our Life Care community, most employees believe their work isn't just a job, it has special meaning.
Many team members have the opportunity to follow the continuum of care journey of residents over an extended period. This can lead to a deeper understanding of their needs and the ability to provide more personalized care and improve their quality of life.
Working with seniors can be filled with heartwarming and fulfilling moments. Our care team witnesses residents' resilience, wisdom and gratitude, which can be incredibly rewarding and inspiring.
Luther Manor's staff creates a culture of intentional excellence, abundant living and trust to deliver God's love with care, compassion and kindness — a positive ripple effect for our residents and one another.
Memory Care Nurses and Caregivers Offer Lifeline for Families
With the opening of The Gardens Memory Care at Luther Manor, there are opportunities for compassionate health care professionals to support those with memory impairment, Alzheimer's or other forms of dementia.
Each resident receives personalized programming to enrich their life and stimulate cognitive function, whether they're experiencing early-stage dementia or are in the advanced stages of Alzheimer's or memory loss.
Caring staff provides person-centered support that respects residents in an environment designed for resident engagement, encouragement and safety. A clinically trained administrator oversees 24/7 care from licensed memory support caregivers.
The specially trained team provides memory care residents support, compassion and companionship. And, the connections between residents, their loved ones and their care providers can be deeply fulfilling.
Join Our Award-Winning Team
Luther Manor is always seeking passionate and committed people who are driven to make a meaningful impact in the lives of older adults. We know it takes talented and reliable team members to support residents and their families. Our community works hard to create an enjoyable working environment, and we provide competitive salaries and generous benefits.
In addition to being recognized for fostering a supportive and collaborative environment, Luther Manor offers ample opportunities for career growth. Many nursing and patient care team members pursue advanced certifications and expand their professional knowledge through continuing education programs.
Visit our Careers page to learn more about the benefits of joining the Luther Manor family, then explore our job listings.