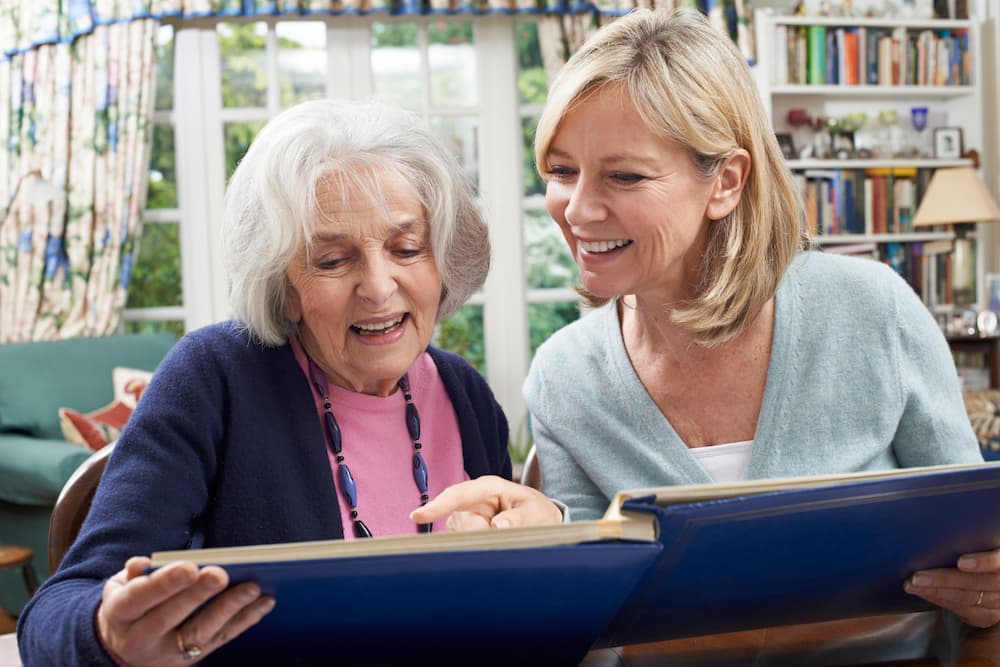 After receiving a diagnosis of Alzheimer's disease, dementia or other memory-related conditions, doing thorough research can help you confidently navigate the possibilities and choices in the world of memory care in the greater Milwaukee area. The tailored services and structured care provided by a memory care community can benefit older adults facing cognitive decline, memory loss or difficulties with daily living due to age-related conditions.
What Is Memory Care?
Memory care is a specialized type of senior care for individuals with Alzheimer's disease or other forms of dementia. Typically, services cater to the unique needs of residents with memory loss, offering a safe and secure environment with staff trained in dementia care.
Memory care communities offer personalized care plans, engaging activities and cognitive stimulation to help residents maintain their independence, enhance their quality of life and manage the challenges associated with memory loss. Facilities are structured to minimize confusion and disorientation. Many feature secure outdoor spaces and memory-enhancing design elements.
In this blog, we'll explore what to expect from a memory care facility, different types of memory care services and questions to ask.
What to Expect from a Memory Care Facility?
It's crucial to visit different memory care communities to assess each environment and observe staff interactions with residents. When exploring your memory care options, consider these key aspects as you evaluate each one.
Specialized care: Memory care centers offer tailored care for individuals with memory-related conditions. Expect to see staff trained in dementia care, focusing on meeting residents' unique needs.
Safety and security: Memory care centers should have secure entry and exit points to prevent residents from wandering and getting lost. Look for safety measures such as handrails, non-slip flooring and easy-to-navigate layouts.
Staffing and training: Ask about the staff-to-resident ratio and caregiver qualifications. Adequate staffing levels are crucial to provide personalized attention and care.
Personalized care plans: Expect the center to create individualized care plans for each resident, tailored to their needs and preferences.
Engaging activities: A quality memory care center offers a variety of stimulating and meaningful activities to enhance residents' cognitive function and maintain engagement.
Nutrition and dining: Look for well-balanced, nutritious meal options and accommodation of specific dietary requirements.
Memory-enhancing environment: Observe the facility's design, which should be easy to navigate, have memory aids like visual cues, and create a calming and familiar atmosphere.
Family involvement: Expect the center to encourage family participation, and it should provide regular updates on the resident's well-being.
Health care services: Make sure the center has access to medical services and health care professionals to attend to residents' health needs.
Reviews and references: Check reviews and testimonials from current and/or past residents and their families to gain insights into the quality of care and overall experience at the center.
Licensing and accreditation: Ensure the memory care center is appropriately licensed and accredited by relevant authorities.
During your visit, take the time to ask questions, interact with staff and residents, and trust your instincts to find the best memory care community fit for your loved one's needs and well-being.
20 Essential Questions to Ask Before Choosing a Memory Care Community
When exploring memory care facilities, asking the right questions can help you make an informed decision. Here are some questions to ask:
What level of memory-related care do you specialize in?
What's the staff-to-resident ratio during daytime and nighttime?
How are your staff trained in dementia care and memory-related conditions?
Can you provide examples of personalized care plans for residents with similar needs?
What types of engaging resident activities and programs do you offer?
How do you handle behavioral challenges or changes in residents' conditions?
How do you ensure security to prevent wandering?
Can you describe how the layout and design of the center promotes resident well-being?
Are there outdoor spaces that residents can safely access?
What are your dining options, and how are dietary requirements accommodated?
How do you involve families in the care and well-being of residents?
Do you have health care professionals available to attend to residents' medical needs?
Can you provide references or testimonials from current and/or past residents and their families?
Is the memory care center licensed and accredited? If so, by whom?
What are your procedures for handling emergencies and medical situations?
Are there additional fees or costs beyond the base rate for memory care services?
How often are resident assessments conducted to update and adjust care plans?
How do you communicate with families about the well-being and progress of residents?
Are there any restrictions or guidelines for visiting residents?
What measures are in place to ensure a smooth transition for new residents?
Asking these questions will help you better understand the memory care center's offerings, staff expertise, the environment's suitability for your loved one, and the level of care and support they can expect. Don't hesitate to ask any other relevant questions about your situation and needs.
The Gardens Memory Care at Luther Manor
Here's what you can expect at The Gardens Memory Care at Luther Manor: A lifeline for your family if you have a loved one with memory impairment, Alzheimer's or any other form of dementia.
With 60 years of quality senior living experience, Luther Manor provides exceptional residential long-term care. Whether your loved one is in the early stages of dementia or facing advanced memory loss, they are warmly welcomed into our memory care community, receiving top-notch support in a beautiful setting.
Under a clinically trained administrator, our specially trained team provides 24/7 care with licensed memory support caregivers, offering residents personalized programming for enhanced well-being, cognitive stimulation and individualized care.
The Gardens' memory care living spaces prioritize resident engagement, encouragement and safety. A secure environment with soothing colors and soft interiors enables residents to move freely, reduces anxiety and offers measured independence. Floor-to-ceiling windows provide views of lush gardens for a serene setting. Exit doors blend seamlessly for added comfort and security.
Intentional, well-planned programming encourages resident participation and enhances mental and emotional well-being through small group activities and frequent one-on-one interactions. Our open-concept dining room serves three healthy, fresh-prepared meals daily, creating more opportunities for socializing.
At The Gardens, we provide exceptional, compassionate care in a supportive environment. This promotes the well-being and dignity of memory care residents while providing peace of mind for their families and loved ones. To learn more, come experience our memory care community in person by scheduling a visit.
Featured Image: SpeedKingz / Shutterstock