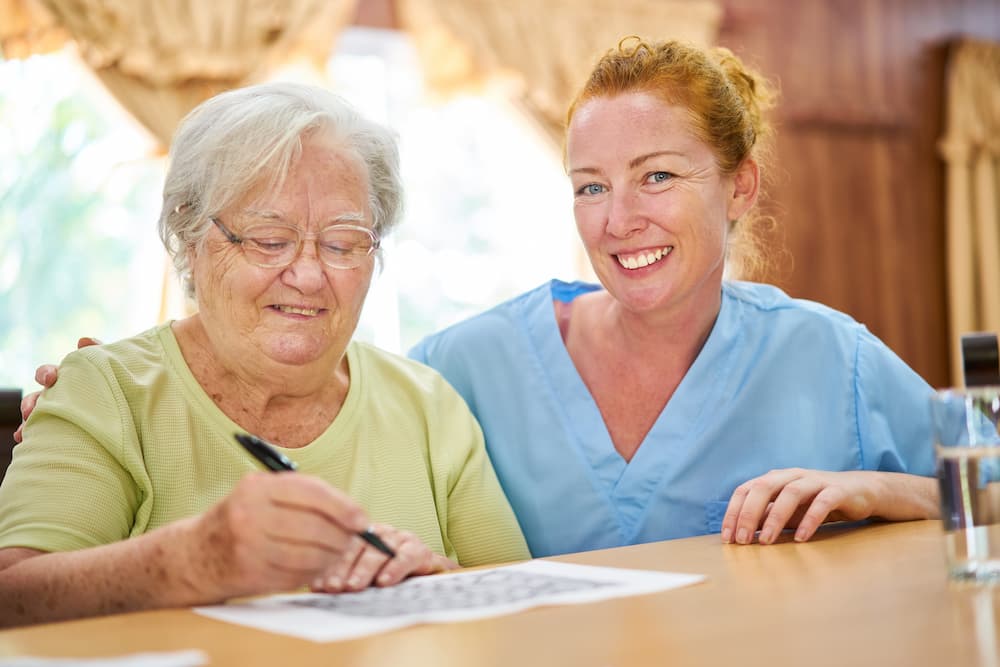 Deciding when it's time to move a loved one into memory care can be challenging and emotional for adult children or caregivers. It's a significant decision requiring careful consideration of their care needs, safety, behavioral changes, quality of life and level of memory impairment.
As Alzheimer's or other forms of dementia progress, they can affect your loved one's judgment and ability to perform everyday tasks, putting them at risk of falls, wandering or other safety concerns. Dementia can also cause changes in mood and behavior, and your loved one may become socially isolated as they struggle to remember names and faces or engage in conversation. Additionally, caring for a loved one with dementia can be physically and emotionally exhausting, especially if they have behavioral issues that are hard to manage.
When is it time for memory care?
Adult children only want the best for their aging parents who may suffer from dementia, memory impairment or Alzheimer's disease. They want them to receive the highest quality of care possible and to maintain their dignity and independence as they age. Adult children may feel a sense of responsibility to ensure their parents are safe and comfortable and to provide them with the necessary support and resources to manage their condition.
When looking for signs it's time for memory care, here are some questions to consider:
Is my loved one exhibiting signs of unsafe behavior, such as wandering, leaving the stove on or falling? Is their home equipped to accommodate their changing physical and cognitive abilities?
Am I or other family members experiencing physical, emotional or financial strain due to caregiving responsibilities? Would moving my loved one into memory care allow me to focus on my own well-being?
Can my loved one participate in social activities and maintain meaningful relationships? Are they experiencing feelings of loneliness or depression?
Is my loved one experiencing mood swings, agitation, aggression or paranoia? Are these behaviors becoming more challenging to manage?
Is my loved one able to maintain their independence and dignity? Are they enjoying life and participating in activities they find meaningful?
Are my loved one's care needs becoming more complex and specialized? Are they receiving adequate medical care and attention to their cognitive, emotional and physical well-being?
Is my loved one's memory loss progressing to the point where they cannot perform daily tasks, communicate effectively or maintain their safety?
It's important to remember every person who experiences dementia has a different journey, and those who love and care for them are faced with new challenges along that journey. By considering these questions and discussing them with other family members, health care professionals and memory care providers, adult children or caregivers can decide whether moving your loved one to a memory care community is the right choice.
Resolve to prepare for the future with memory care
Memory care is a specialized type of residential care designed for individuals with dementia or Alzheimer's disease. Communities like The Gardens at Luther Manor are committed to providing a safe and supportive environment that enhances quality of life and promotes well-being for those with dementia.
When considering memory care, it's essential to research different communities in person to get a feel for the environment and see how the staff interacts with residents. Look for a place with a compassionate, trained team, specialized programs and a nurturing atmosphere.
High-quality memory communities will provide opportunities for social interaction and activities to help your loved one stay engaged and connected. Be sure to ask questions about programming, staff training and safety measures.
Everything your loved one needs on one campus
Moving a loved one into memory care can be a difficult decision. Still, it can provide peace of mind and a higher quality of life for individuals with dementia and their family members. Adult children or other caregivers can focus on their own wellness, knowing their loved one is in good hands and prepared for the future.
Backed by a 60-year history of providing top-notch senior living in Wauwatosa, WI, Luther Manor offers residents easy access to all care levels in one place, from independent living and rehabilitation therapies and skilled nursing to assisted living and hospice care. The Gardens is the newest community addition, offering long-term and person-centered care for those with memory impairment, Alzheimer's or other forms of dementia.
The memory care neighborhood enriches lives, stimulates cognitive function and maximizes independence throughout each resident's unique stage of memory loss. Multidisciplinary services and well-planned activities focus on increasing social participation, encouraging independence and promoting mental and emotional health through small groups and frequent one-to-one interactions.
Soothing colors and soft interiors throughout the space provide comfort, beauty and security for residents and their visitors. The Gardens has a thoughtfully designed community room featuring floor-to-ceiling windows, a large enclosed courtyard with lush gardens and three healthy, freshly prepared meals daily.
Discover innovative, compassionate and personalized memory care
When it's time for memory care for your loved one, The Gardens at Luther Manor resolves to prepare you for a worry-free future. Contact us today to learn about our memory care offerings and our broad range of health services to meet all your loved one's needs.