We are excited to share some of the stories & wisdom of the men of Luther Manor, including Dick, Don, Gary & David.
---
Read Their Stories
Click on their names to expand and contract their story.
---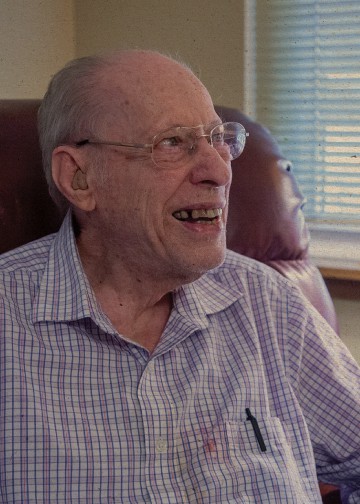 David Moberg
David Moberg has this to say to future generations: Trust in the Lord with all your heart. The oldest son of a pastor, David took his experience growing up in a Swedish Baptist church in Chisago County, Minnesota, to lifelong work studying the role of religion in aging. As his contributions to the field grew, he called for Christians to take action against social evils.After earning his BA, MA and Ph.D. at Seattle Pacific University, the University of Washington and the University of Minnesota, respectively, David began his career in higher education teaching sociology at Bethel College in St. Paul, Minnesota. There, his career specializing in the sociology of religion and aging developed. After 18 years, he was appointed a Professor of Sociology at Marquette University from which he retired as Professor of Sociology Emeritus.
In David's 98 years, he has been a son, brother, soldier, husband, father, and professor. On a Monday morning visit for the purpose of this piece, he set aside his Bible to talk. Religion is important, he says, but Christ is more important. Once called the "godfather of the religion and aging research field," David's writings from the 1950s and since remain relevant.
In 2020, a year that will be remembered for a global pandemic that paused lives and shuttered livelihoods and a replay of racial injustices and police brutality, the writings and teachings of this evangelical intellectual whose voice grew in the 1960s, David Moberg's lessons are pertinent. If you are wondering what is next or want to forge your own path of action in tumultuous times, take his advice to heart: Trust in the Lord.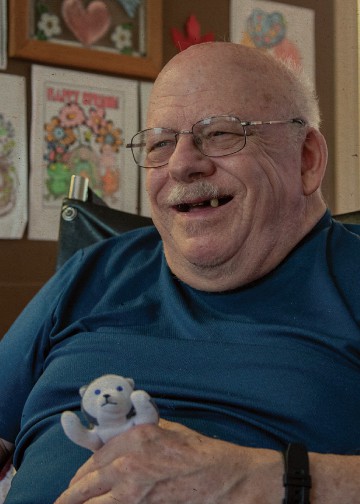 Don Lemke
At one time, Don Lemke was one of the most popular employees at Miller Brewing. He was responsible for payroll during his career that spanned 25 years. A Miller loyalist, it remains his favorite beer. When asked what lessons he would impart to the next generation, a conversation about the importance of effort ensued.
Hanging on the walls of Don's room in the Health Care Center are beautifully finished colorings. Hot air balloons, animals and folk-art inspired drawings are filled with carefully selected color palates contained precisely within their lines. Coloring is a skill that Don has perfected during the COVID-19 pandemic when precautions were put in place to protect residents from exposure to the virus. "I try my best," he said. And it shows.
On his window sill is a growing collection of beanie babies he has won playing bingo and other games with fellow residents. His favorite way to pass the time, though, is to play cards. When his favorite opponent, his sister, was no longer able to visit due to the precautions, we sought out someone new for him to play with, and found a worthy opponent in Luther Manor President and CEO, Stephanie Chedid. "When he was teaching me to play Crazy Eights, I know he let me win," she said. She recognized his lesson in kindness and met it: as she got better, she let him win now and then. Knowing that makes Don smile.
Giving it your best effort with an aire of kindness is a sound lesson for all generations.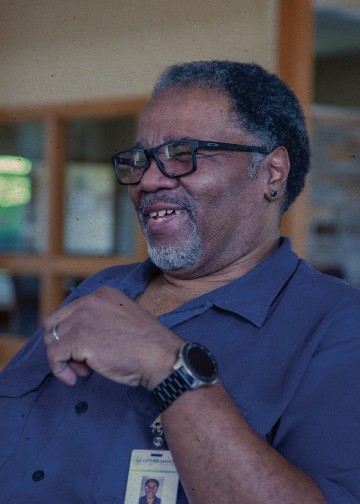 Gary Daniels
Gary Daniels' lessons for the next generation are given by example: work hard and get an education. Gary's four children listened, even following in his footsteps and working at Luther Manor. At one point in time, his entire family worked here. Although he is one of our longest-serving employees, his tenure at Luther Manor is eclipsed by his wife, Stephanie's, who was already working there when she encouraged him to apply more than 30 years ago.
The importance of hard work and education was instilled in him by his Mom when he was growing up in Milwaukee during the civil unrest of the 1960s. He remembers the Third Street riot of 1967, and worries that Milwaukee might be returning to a period of violence, but hopes that isn't the case. "You couldn't go anywhere without being afraid," he said.
During that time, Gary looked to Father Groppi, a local Milwaukee Priest remembered as a Civil Rights leader who his mother knew, and Martin Luther King, Jr., for guidance. "His words got to me," he said. "They still do today."
Gary was just a child when Dr. King was killed, but he remembers seeing the sadness in his Mom and Stepdad. In response, though, he's not sought to keep his own children from experiencing the challenges we face as a society. "Sometimes they need to learn on their own," he said.
Therein might lie the most valuable lesson of all.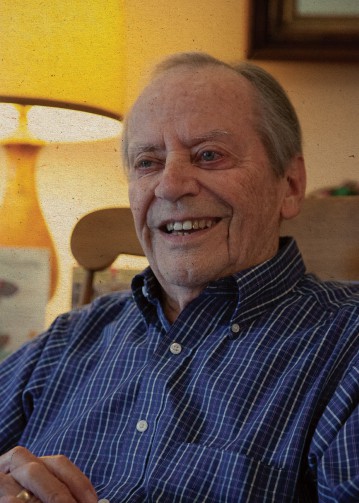 Dick Merklein
If Dick Merklein could, he would ask future generations to consider the impact that one person can have and then tell them to find a way to make a difference. Growing up in Milwaukee during the Great Depression, he remembers a happy home life despite his family's poverty. His father worked long hours for little money, so when he lost a day's wages coming home from work once, his mother got the entire family out looking. They retraced his steps, and his sister found them.
Whether it was a lesson in the importance of persistence or one of hope, it has remained with him, reminding him that even in difficult times, there is good. The Coronavirus pandemic, for example, has killed and impoverished thousands. But it has also evoked kindness, generosity, and sacrifice. The immense outpouring of public outrage over police brutality in the killing of George Floyd has raised the opportunity for strong legislation to prevent it in the near future.
Within the silver linings are lessons of hope that Dick believes are important to carry from one generation to the next. Especially in 2020, a year that will be defined by its challenges, he and his wife, Karen, strive to remain hopeful in all aspects of their lives. They find inspiration in ordinary American citizens who did extraordinary things: Rosa Parks, Dorothy Day, Father Groppi and Dr. Martin Luther King, Jr.
Dick believes that the next generation can find its message of hope by giving back. Whether volunteering for organizations that serve the needy or using their voice to enact change like teenager Greta Thunberg has to confront world leaders about climate change, future generations have examples to follow. But they shouldn't be afraid to also lead the way.