From March 1  to March 8 we are excited to share the stories of strong women at Luther Manor, including Jane, Joyce, Cathy, Sharon, Deborah, Jacqueline, and Julie. Congratulations to our Strong Women class of 2021!
---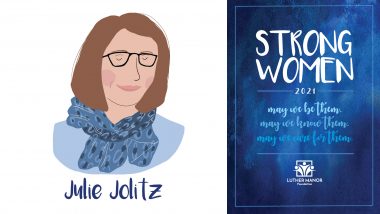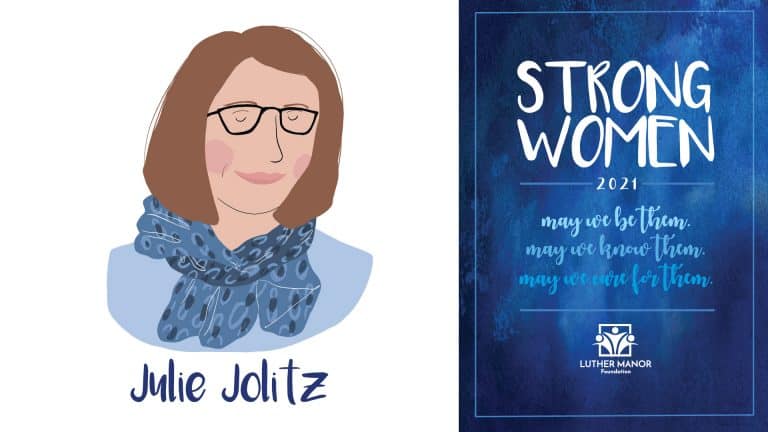 Julie Jolitz has experienced more loss than her strong exterior reveals. Her two brothers fell victim to Muscular Dystrophy, and she supported her oldest son as he fought for recovery from an addiction that took the lives of six of his friends. Her beloved Aunt Margaret passed in the midst of the COVID-19 pandemic, and her father died just before Christmas at the height of an outbreak at Luther Manor.
With the levity that comes from knowing firsthand that life is hard, Julie doesn't allow herself to "live there" – in sadness and in pain. Instead, she is, as her husband describes, resilient. Also, tough, fair, and fun.
Accomplished in her work as an experienced Chief Clinical Officer, she takes her job seriously. When the first case of COVID-19 entered Luther Manor, she cried. While explaining to her son in a phone call that it is her responsibility to keep residents safe, he listened. And then asked, "How will you fight it?"
In answer, she has led Luther Manor through an unprecedented global pandemic by focusing on the health and wellbeing of residents, staff and families. As a result, the organization is stronger and better. "You don't let it win," she said. You also don't let it control everything. As residents sought time with family, she opened the campus for compassion visits when possible, carefully balancing the risk of exposure with the reward of seeing loved ones. Local, state and national leaders took notice, and Julie was placed on committees and teams to help other organizations find the same success in terms of COVID-19 infections. She credits her team.
Growing up in Cedarburg, Julie was driven. She was the first in her family to go to college, and strove to do everything her older brother could. When he got sick, she remembers that it was a gift to be a resource for him and her family. She remembers him telling the team at his rehab facility, "She runs healthcare." She tried to correct him, but he wouldn't allow it. So she let it be, knowing that he took comfort in her help and advocacy on his behalf.
As a boy-mom, Julie takes pride her three sons. On good days and bad, she wants them by her side. When she graduated from Carroll University with her MBA, she heard their cheers from the audience and was grateful for their presence. When her father passed away, they dropped everything to be at her side, and her Mom's – the strong one in Julie's mind.
Julie's Mom is a strong woman who she admires dearly. "She has a quiet strength," Julie describes. "How do you lose two children and continue?" By honoring those you lost, Julie says. And by spending time with loved ones whenever possible.
Years ago, Julie began a tradition of taking her parents and aunt on an annual trip. They would visit family, or destinations important to them. Memories from one trip that bring out Julie's signature laugh was a girls' weekend to Memphis, Tennessee with her mom and Aunt Margaret. She remembers the two of them – lifelong friends who spoke every day – on Beale Street enjoying the music, and crossing the street as quickly as they could with their canes in one hand and purses in the other. It is in times like these that Julie chooses to live.
---

Jackie Holloway enjoys a good strong woman story. As a woman of strong faith, she finds the books of Esther and Ruth to be must-reads, along with the rest of the Bible. From that book, Jackie draws her strength, the rules by which she lives and the perspective to remain positive during a global pandemic.
"God doesn't repeat himself," she says. In other words, like the Great Flood, this will not happen again.
Born on Christmas Eve in 1930, exactly one year after her parents met, Jackie remembers a happy childhood growing up in Chicago. Her father was a hard worker who held many jobs to provide for his family. In 1941, he was a janitor at the Chicago Transit Authority (CTA) when Pearl Harbor was bombed. With so many men serving in World War II, opportunities opened. That is how he became a bus painter. He retired after more than 30 years, but not before paving the way for other men in Jackie's family to join the organization. Jackie's oldest son was a CTA bus driver, retiring after 20 years of service. Today, one of his sons is a driver, making three generations of service to CTA.
Her parents celebrated 67 years of marriage before her mom died at the age of 88. Jackie cared for her until the end. "She was the person I knew first!" Jackie says. Her parents endured a lot together, Jackie remembers. But her mom had to be especially strong. "She had no family (in Chicago)," Jackie remembers, but she made a home for them there.
Now 90 years old, Jackie is the proud matriarch of five generations. Grandmother Jackie, as she is called, believes it is better to be wise than smart and reflects on lessons from the Book of Proverbs. "Life is trials and tribulations," she says. When her children and grandchildren seek advice, she will offer it, encouraging them to listen with the sensible reminder that "they have never been my age, but I have been theirs."
With her husband, Jack, she raised four boys, eventually moving to Milwaukee through her management position with EZ Painter. Here, she became involved with the Lutheran Church Missouri Synod. After Jack died in 2015, she listened for God's direction about what to do next and was compelled to move to Luther Manor.
While never imagining turning 90, Jackie believes there is so much life yet to live. "You have to continue to grow, to experience life," she says. That includes growing in faith. And being true to who you are. "I love being nice," Jackie said. "But don't take advantage of me." And always look for the good in others.
---

Deborah Jones remembers well her first day as a certified nursing assistant. It was at a local nursing home, and she found the facility and its residents in poor condition. That day, she met Mary, a resident in need of some attention. After Deborah finished soothing her skin and combing her hair, Mary said, "Thank you, baby." Deborah thought to herself, "If I can make more people like Mary smile, this is the job for me."
At Luther Manor, Deborah makes people smile every day. For 23 years, she has worked as a CNA, including 16 as a CNA instructor reviewing policies and procedures and training new CNAs, and five as a Restorative CNA. For each promotion, Deborah was recruited. Luther Manor's care leaders noticed in her an appreciation for older adults, and the ability to make a difference for them and those who cared for them.
Between the residents and staff, Deborah considers Luther Manor her second family. "I love this place," she says. That love, though, makes it even more difficult when residents pass away. "Life is so precious," Deborah says. "We can't take it for granted."
COVID-19 has made that even more apparent. As Luther Manor residents were dying without family by their side, Deborah sat with them. "I would hold their hand and let them know that God loved them," she says. She remembers telling one family in particular how their mother was surrounded by people who cared about her as she was dying. "We took very good care of her, and I wanted them to know." It was reassuring for them, and a privilege for Deborah and her colleagues to be there for the resident and her family. Now, whenever she can, she holds the hands of others and encourages new CNAs to do the same.
"These residents are my everything," she says.
Deborah remembers the morning when the first Covid-19 patient for whom she cared went to the hospital and was placed on a ventilator. "I said to myself 'This is real,'" she recalls. "I got on my knees and prayed not for myself but for her." The next day, Deborah learned that the resident was doing a little better. "That's when I got on my knees and prayed for myself," she said.
She draws her strength from God, understanding that, "He touched my heart to touch theirs."
Deborah also gets strength from her daughter who is a full-time mom and full-time working woman. From her own mother, though, Deborah gets her attitude of caring. Deborah's "big heart" extends to her CNA's in training, as well.
"I tell them they are all special," she says. "Because they are." When teaching them new skills and setting expectations, she is patient and works to put them at ease.
In successful resident outcomes, Deborah finds joy. One story in particular, about a man who suffered a stroke, continues to resonate with and inspire her. At first, he could not walk without the assistance of a medical lift. Eventually, he walked with the help of Deborah and two other restorative CNAs; then two; then one. Next, he walked while they stood by offering only their encouragement. Eventually, he walked out the door to go home to his family. His determination, along with the care provided by Deborah and her colleagues, made that possible. "We did that," she says. "Together."
---

The most important thing that Sharon Porfilio has learned is to be herself. Growing up on Pewaukee Lake, she was shy. A self-described loner, she hit her stride as a student at St. Norbert College in DePere, Wisconsin: "I decided to be the girl of my choosing," she said. Leaving the wallflower behind, she allowed herself to open up.
"I knew I was growing up, but because I was so religious and had a wonderful conscience, I grew to become who I am today," said Sharon.
And who she is today? A giver who finds joy in a smile from someone, in friendship and in helping others. "My mind is forever on the move planning ideas on ways to care for my friends," she says.
For many years, her caring was focused on her husband, Jim. A polio survivor, he had physical challenges but always persevered. From him, Sharon draws her strength. "We were married 57 years," she says. "We were a dynamic duo." In retirement, they lived on Long Lake in Fond du Lac County, and spent winters as snowbirds in Florida, first in Panama City Beach and then in Arcadia. Wanting to give back and meet people, Sharon was generous with her time, including volunteering as a 4H leader in Wisconsin and Florida, teaching kids and cognitively impaired adults to fish. She laughs remembering the differences in fishing in Wisconsin versus Florida, especially the danger that can lurk in southern waters. Dangers like poisonous snakes that found her reminding the Florida fishermen to be careful when rinsing their hands in the water they were fishing.
After Jim developed Alzheimer's Disease in 2015, their daughter, Laura, asked them to move near her in Wauwatosa. Sharon was first introduced to Luther Manor in the 1970s when her Mom worked here as a nurse, and it became their home.
Today, her daughter Laura is the person she wants standing beside her on good days and bad. "She means everything to me," Sharon explains." For years, she wanted to be my friend, but I said I couldn't because I was her mom. Finally, one day on a Mother's Day, I accepted."
When Jim passed away earlier this year, Laura was at her Mom's side. COVID-19, though, has otherwise kept them apart. When they can be together again, they will give each other a "bear hug," walk Laura's dog and return to Luther Manor for a visit on Sharon's patio over coffee or a glass of wine. Until then, Laura texts Sharon nightly, "Goodnight, Momma."
---

As Luther Manor's Director of Care Transitions, the COVID-19 global pandemic presented unique challenges to Cathy Lee. As families were left with no other choice than to trust completely the care and wellbeing of their loved ones to Luther Manor, it has been an emotional year. Trying at times. To get through, Cathy tells her staff what she tells herself when things get tough: Every day is a better day.
Growing up as the third oldest of 12 children in Philadelphia and Green Bay, Cathy drew on the challenges her parents encountered as immigrants from Laos for inspiration to work hard. "I knew it was in my hands to make life better for myself and my family," she said. So she did. Cathy is the only person in her family to have earned a college degree, and was drawn to a career in gerontology. "I had a love for older people," she said. After getting married at 18 and starting a family of her own, she persisted in school by taking classes as a working mom, graduating from Alverno with a degree in Sociology and a minor in Psychology. She has worked in Social Services for more than 10 years.
Throughout, she drew strength from the strong women in her life. Her husband's grandmother, for example, who successfully navigated Milwaukee County's transit system despite not speaking English. And her own mother, who is the Strong Woman in her life. "My mom is my inspiration," said Cathy.
In the Hmong culture, children are to achieve a higher level than their parents. "She empowered me to be a better person."
Also important in her culture is family. Traditionally, the wife of the oldest son cares for his parents in her home. "Our parents raised us," she said. "Not once did they complain. It is my turn to take care of them."
At one time, there were four generations living with her and her husband, David: his grandparents, his parents, David and her, and their children. Cathy considers herself and their children blessed, and is grateful to know so well their family's elders. She keeps the memory of his grandparents alive through traditional Hmong dishes that remind her family of them. Cathy speaks Hmong to her children, and has a collection of beautiful Hmong clothing that she enjoys sharing with them.
Intentionally surrounding herself with generations of family at home and older adults at work has given Cathy the strength of perspective, which has been especially helpful in the past year. "You don't know what it's like for someone until you go through it yourself," she said. When her husband was sick with COVID-19 and quarantined at home, she understood more what families at Luther Manor were going through. "I missed my husband," she remembers. Their youngest daughter, a two-year old heart warrior and strong woman in the making, struggled, too. She connected with her dad by putting her hair and hands beneath the door of the room where he was staying. "Can you see my hair, Daddy?" she would ask. "Can you see my hands?"
Even with four kids between the ages of two and 13, parents for whom she cares and in-laws who live with her, Cathy makes time to consider her own professional growth. She would like to earn her Master's Degree and encourages her younger sisters and nieces to follow in her footsteps. As a strong woman, she knows that crying and failing don't make a person weak, but present opportunity. Just as she found hers, she encourages the women in her life to do the same.
Family first, though. When she leaves for the day, this empowered woman puts on her other hats: of wife, mother, daughter, sister, aunt and daughter-in-law. Cathy wears them well and with intention…staying strong to fulfill the obligations she considers
as blessings.
---

When Joyce Heinrich decides to do something, there is no stopping her. The decision to move to Luther Manor in 2010 was made in anticipation of more support for her husband whose health was beginning to decline. When he died before they moved, she continued with her plans, surprising friends who thought she should wait. Joyce's mind, though, was made up, and she never looked back.
Moving was the beginning of a new and exciting chapter in Joyce's life. She became a marquee actress with the Terrace Players, helping to establish performance formats that allowed actors to read their lines rather than have to remember them, building confidence in herself and neighbors to take part. "It was a great fun time," Joyce says.
As a panelist, she spoke about her participation in Luther Manor's groundbreaking production of the Odyssey when a book by the program's director, Professor Anne Basting, was published. Joyce's presence as a strong woman was further recognized when she became one of the voices in Luther Manor's radio promotions.
Growing up in Wauwatosa, Joyce was inspired by a high school teacher to study English at Carroll College. A poet, storyteller, and writer, Joyce continually looks for opportunities to weave together words, including with UWM Student Artists in Residence who facilitated writing and sharing sessions at Luther Manor.
While a student at Carroll, Joyce met her husband, Don, at a regatta on Nagawicka Lake. They both raced "C" boats, marrying in 1950. While raising their daughter, Holly, during a time when few women worked outside the home, Joyce served on the Board of Directors at Trico Manufacturing, a fourth-generation company in Pewaukee founded by her father 104 years ago to produce his invention of color-top fuses.
Through Trico, Joyce saw strong women at work as her father hired many homemakers for the assembly line. The ability for women to make a difference was reinforced by her mom who volunteered at Luther Manor before moving into the Terrace "E" building as it was being built. Eventually, Holly joined them as a volunteer, bringing coffee and cookies to residents in the Health Care Center.
"My family members are all strong and supportive," Joyce says. But on a good day, she would like her daughter standing next to her. "We would have fun!" she says laughing. "Likely go out shopping."
Joyce is known to make the most of time with family, until recently taking day trips to their home on Nagawicka. As life has slowed during the Covid-19 pandemic, she is reminded to "be patient." Always, though, Joyce's best advice is to be flexible. "Almost every day there is a reason to be," she says. Her favorite saying begins with why: "Blessed are the flexible for they will not be bent out of shape!"
Where Joyce is not flexible is in her faith. A lifelong member of St. Matthew's Lutheran Church in Wauwatosa, Joyce used her gift with words for a poem she wrote in 1981, found in a pamphlet titled, "Rejoice with Joyce." In it, she finds comfort even as she still misses Don: On a Christian's Death "What a joy to know he isn't dead, nor merely "gone away." But rather he's a step ahead, Through Christ, he waits for me one day."
---

Growing up in the countryside of China, Toy "Jane" Chin remembers reciting whole lessons for her father, a teacher, before bedtime. He was smart and completed nine years of formal education. He taught all classes, and had a way of managing his pupils' behavior with his demeanor: Mr. Tang was clear and knew when to deliver the look for which he was known.
From him, Jane learned the matter of words. Later, while living in Hong Kong, she studied English in anticipation of moving to the United States. There, she learned the importance of grammar, playing with the structures of sentences, and interchanging words for new meaning. In 1959, she put those lessons to work when she moved with her young daughter to the Chinatown neighborhood of Cleveland, Ohio. Chuck had moved six years earlier. She remembers the relative ease with which they settled on 21st Street near two grocery stores in a community of other Chinese people.
Jane laughs at the memory of her daughter, Mee Lee, as a fearless six-year-old playing hide-and-seek with a new friend. Learning the past, present, and future tense of words, Mee Lee kept asking her friend, "Where are you going?" instead of "Where have you been?" The friend kept answering, "Nowhere." "I was so frustrated because I wanted to know where she had hidden," Mee Lee remembers of the story that still makes her mom laugh.
When asked if she would describe herself as fearless, Jane said that it depends on the circumstances. "Coming to America," she said, "I wasn't scared at all." After settling in Cleveland, Jane became a Christian. "When my heart is not peaceful, I pray," she says. "And I feel better."
While Jane did not meet her husband, Chuck, until their wedding day, she did notice a 2"x2" picture of him tucked in the frame of a large picture hanging in the living room of her family's home. He was studying in Hong Kong to be a mechanic. A neighbor thought they would make a nice couple, so pictures were exchanged by their mothers. Jane's father passed away when she was just ten years old, and with her older brother and sister settled, it was time for Jane to build a life of her own. So, she did. She married Chuck when she was just 19 years old and together they raised their family, which includes their daughter, Mee Lee, and son, Barry.
Still today, Jane reflects on the strength of her own mother, a sewer who provided for them after her father died by making garments from the clothes of elders. She had no formal education but learned from Jane's father how to make a simple letter. She could write, reinforcing again for Jane the importance of words. "She has always valued education and encouraged us to get a good education," said Mee Lee. She values this about her mom and has passed this along to her own children.
Jane followed in her mother's footsteps, becoming a sewer, as well. Mee Lee remembers needing a dress her senior year in high school. Jane worked until 4 a.m. to finish it in time for Mee Lee to wear that day and then left for work at 7 a.m. "Mom is a very hard worker and diligent," Mee Lee says.
She is also missing her husband. After Chuck died in June, a volunteer made a stuffed bear out of his favorite shirt. "This was on his skin," Jane says touching the bear. "When I'm holding it, I'm close to him."
---
MEET THE STRONG WOMEN CLASS OF 2020
---