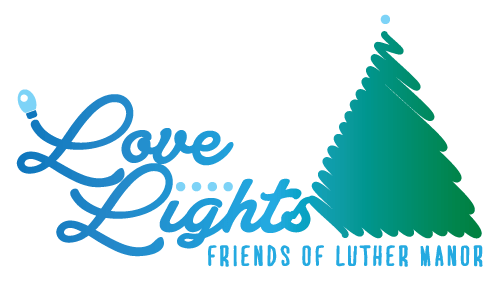 As the festive season approaches, the Luther Manor community is a beacon of hope and warmth. We invite you to participate in our Love Lights tradition, where Christmas lights are displayed in memory or honor of your older loved ones. The act itself creates fellowship as we join together in prayer, gratitude, and remembrance. And this community-wide tribute brings joy and peace to many who are lonely or grieving.
Donate to honor those who touch your life or whose memories continue to burn bright in your hearts. With each donation, we will dedicate a "Love Light" on our campus. In addition, we will hang a tribute with your loved one's name in our Welcome Center.
Your entire donation goes directly to the Luther Manor Foundation. Our generous sponsors help underwrite the cost of Love Lights. Your contribution has a profound impact:
6 in 10 older adults will need long-term care
Over 30% struggle financially
Public funding only covers half of the financial needs for care
Your generous donation ensures that our older adults receive the care and community they deserve. Join us in this cherished tradition. Your donation will not only light up our campus but also the hearts of many.
Every Love Light you ignite is more than just a bulb—it's a beacon of hope, love, and warmth. Let's come together and shine the light of God's love brighter than ever. Don't miss this chance to make a difference. Join the Love Lights tradition today! Who will you remember?
---