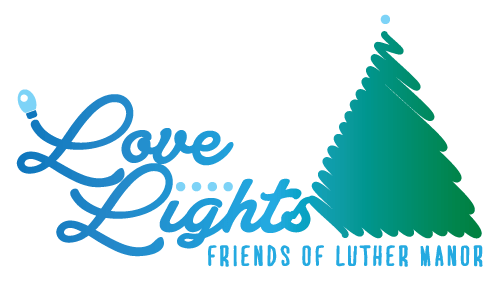 Our annual event "Love Lights" is quickly approaching.  We gather every year in the darkest season to shine the light of hope.  No matter that darkness, the light of our loved ones can never be extinguished. We fill our campus with strands of light to comfort us in our grief and find joy in the love we share with one another.  Residents, families, staff, and neighbors make donations in honor or memory of their loved ones, so each light reflects someone we love. The 2022 lighting ceremony will be broadcast on December 9th at 5 pm on Facebook. 
The money raised supports Luther Manor's mission to share God's love by enriching the lives of older adults. Each dollar provides for the housing or medical needs of our residents while providing a job for one of our compassionate caretakers.
We invite you to remember your own loved ones with a donation. Who will you remember?
---
Friday, December 9, 2022 at 5 pm
Thank You Love Lights 2022 Sponsors!
Caspian  |  CIBC  |  Johnson Financial  |  M3  |  Krause Funeral Homes  |  CG Schmidt  |  Stu's Flooring  |  JP Morgan  |  Angell Marketing  |  Dillett Mechanical  |  Lemberg  |  Bunzels