An abundance of choices
At Luther Manor, life feels energized and purposeful. Throughout the community, you'll find opportunities to share a laugh, try new things and make friends — from a game of Sheepshead or cribbage to dartball and billiards to teaching a neighbor to knit. You can build in the woodshop or head to the train room to enjoy the model railroad layout.
And, that's just the beginning. There are clubs and outings and special events for virtually every interest. Plus, residents are actively engaged in the community, volunteering their time and talents, serving on committees and resident councils, and leading the way to develop and coordinate programs. Our dedicated staff and management listen, lend a hand and provide support for it all.
Amenities
Restaurant-style dining
Catering for your events and special occasions
Two fitness areas equipped with special exercise equipment for older adults
Fully equipped woodshop
Model train room
The craft CREATE center
Libraries
Two computer centers with Internet access
Manor Mart grocery shoppe
Ice cream parlor
Hair salon
Nail services
Massage therapy
Banking services
Onsite health clinic and pharmacy services
Scheduled transportation to area shopping, dining and special activities
Daily reassurance checks and an emergency pull cord in the bathroom and the bedroom
Warm therapy pool
Sample Life Enrichment Programs
Musical and cultural performances
Guest speakers
Cooking demonstrations
Fitness classes, including water aerobics, cardio and balance
Indoor bocce ball
Dartball
Billiards
Shuffleboard
The Terrace Singers
Crafting
Cards and games, including Sheepshead, bridge, cribbage and more on multiple days of the week
Fun brain games to improve cognition and memory
Veterans club
Book club
Baking corner club
Garden club
Knitting club
Dining council and resident council
Holiday celebrations
Faith & Education Center
Interfaith worship services
Volunteer opportunities
Day trips to restaurants, theatres, symphony events, historical sites, art museums and more
---
Which apartment will you choose?
We offer 20 different floor plans in a variety of styles up to 1,600 square feet. Every apartment comes with a fully equipped kitchen, a spacious area for living and dining, and helpful extras such as maintenance services and an individual storage space. Check out what's included as well as our sample floor plans.
What's Included
Dining credit
All utilities (except phone and internet)
Wi-Fi in select common areas
Basic cable TV
Maintenance
Outdoor parking
Washer and dryer (in select apartments)
Individual storage space
Complimentary laundry facilities
Additional Options For a Fee
Housekeeping
Maintenance assistance, including help moving a sofa or hanging pictures
Additional dining credit and guest meals
Indoor parking
Supportive Living services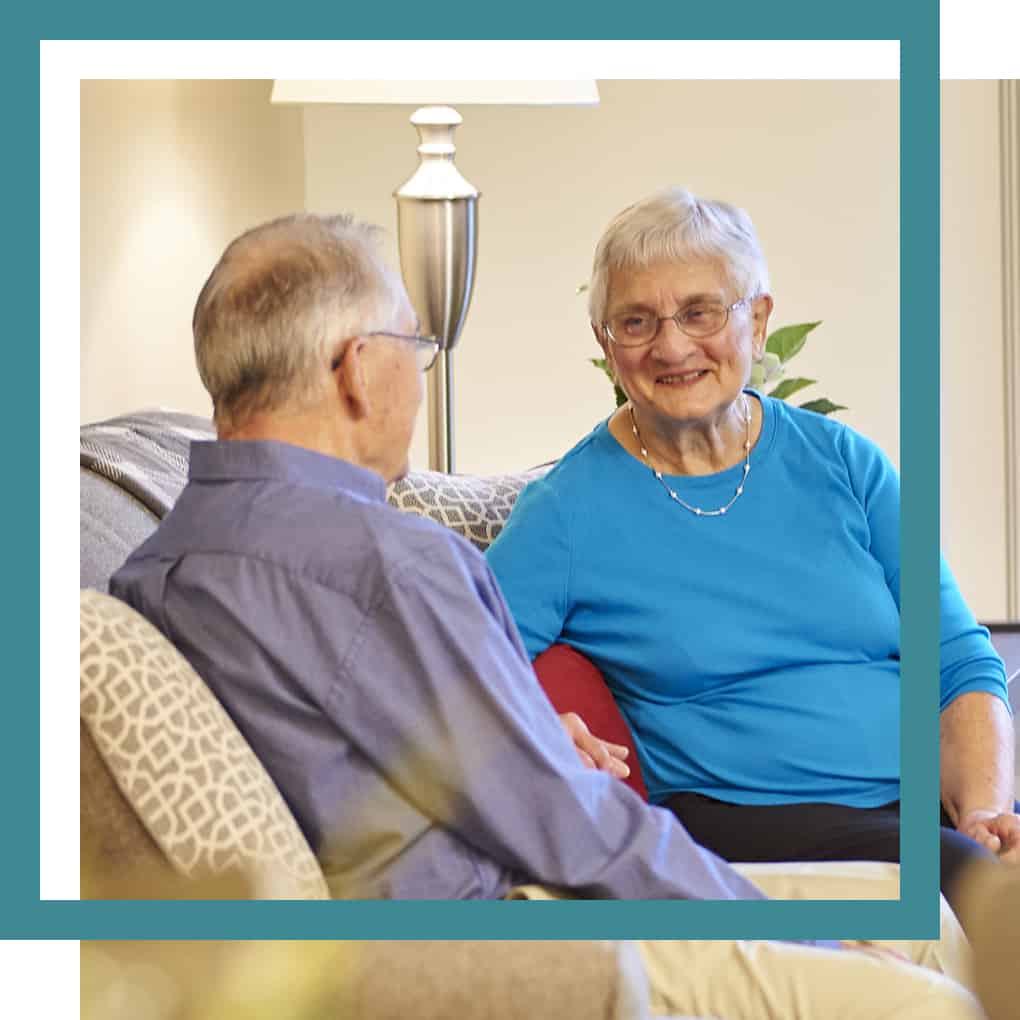 SAMPLE FLOOR PLANS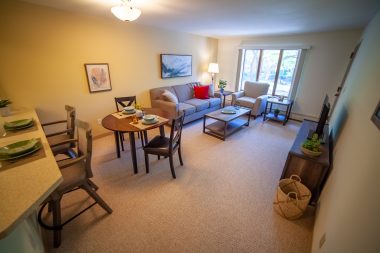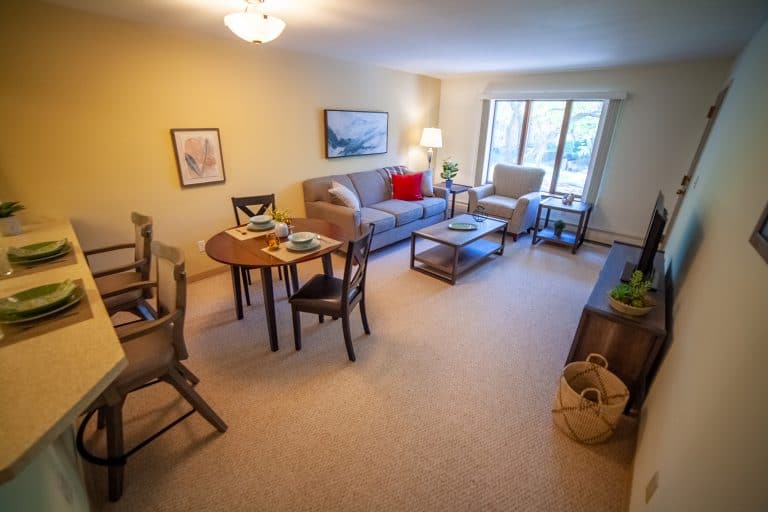 The Hampton
1 bedroom, 1 bath
700 square feet
Starting at $1,899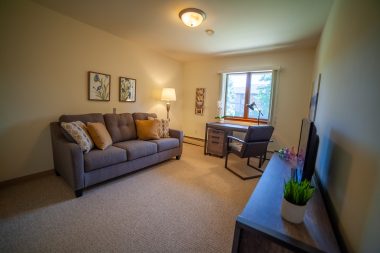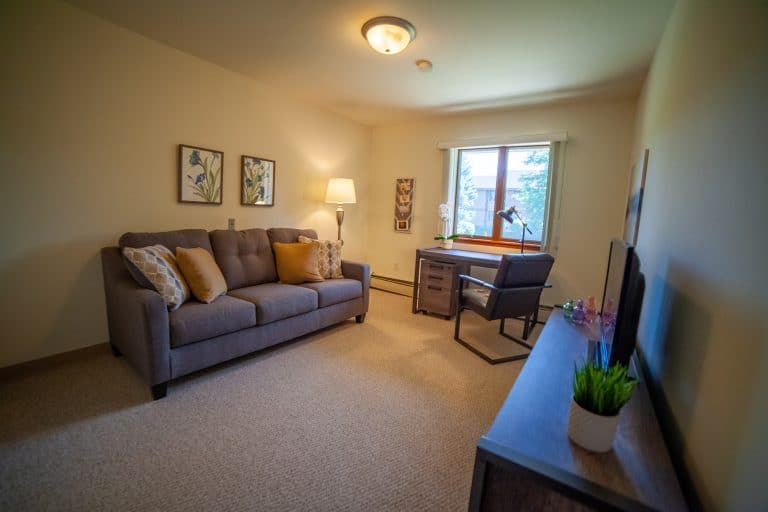 The Wilshire
2 bedroom, 2 bath
1,000 square feet
Starting at $2,299
So many wonderful dining choices
From traditional comfort foods to flavorful farm-to-table fare, we offer a variety of dining choices to fit your every appetite.
CHIVES
AMERICAN GRILL
---
Enjoy your favorite soups, salads, sandwiches, grilled chicken, burgers and more in a casual atmosphere.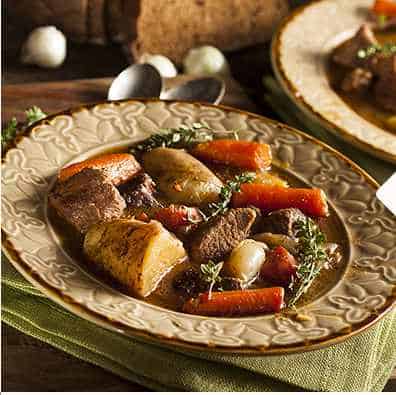 PARK TERRACE
DINING ROOM
---
In the mood for something more? Park Terrace serves hearty home-style dinners and lunch.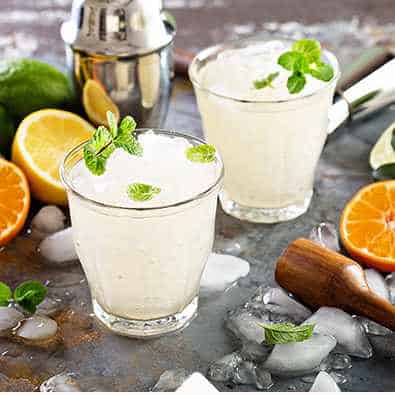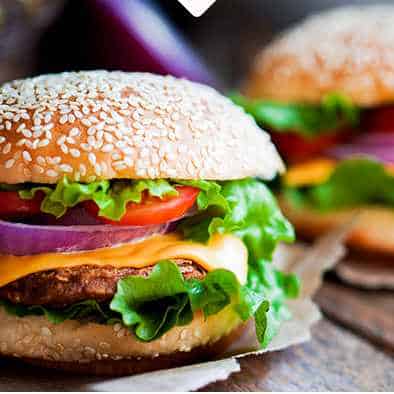 TAKE THYME
CAFE
---
Want a light breakfast or easy weekday lunch? Take Thyme Café is a great place to socialize over soup, sandwich and pizza.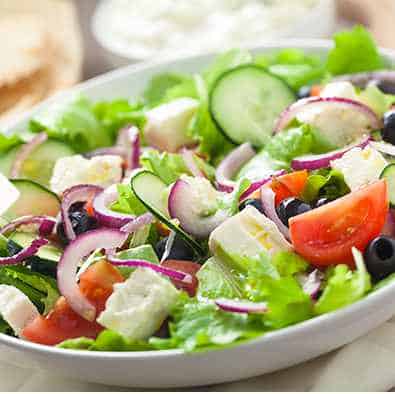 HEARTH
CLUB
---
Enjoy an evening cocktail with neighbors and friends at our cozy Hearth Club.
Supportive Living adapts to you
Over time, everyone's needs change. At Luther Manor, we make it easy for you to continue to live independently in your apartment home. Our personal assistants and caregivers can help with housekeeping, laundry and meals, manage your medications and more.
You can use our flexible, affordable services for a couple of weeks, a few months or on a continuous basis. It's up to you. For convenience, service fees are added to your monthly bill. Best of all, our supportive living program includes additional dining credit in our restaurants to ensure optimal nutrition when you need it most.
Supportive Living Services
Staff available 24 hours a day, 7 days a week
Health monitoring and nurse consultation
Monthly housekeeping
Help with laundry
Change bed linens weekly
Prepare light meals
Clean refrigerator
Help with compression socks and stockings
Assist with bathing, dressing and grooming
Manage medications, oxygen and incontinence
Daily reassurance checks
Cord-Mate help button
Includes an additional dining credit to use in our restaurants
Licensed RCAC (Residential Care Apartment Complex)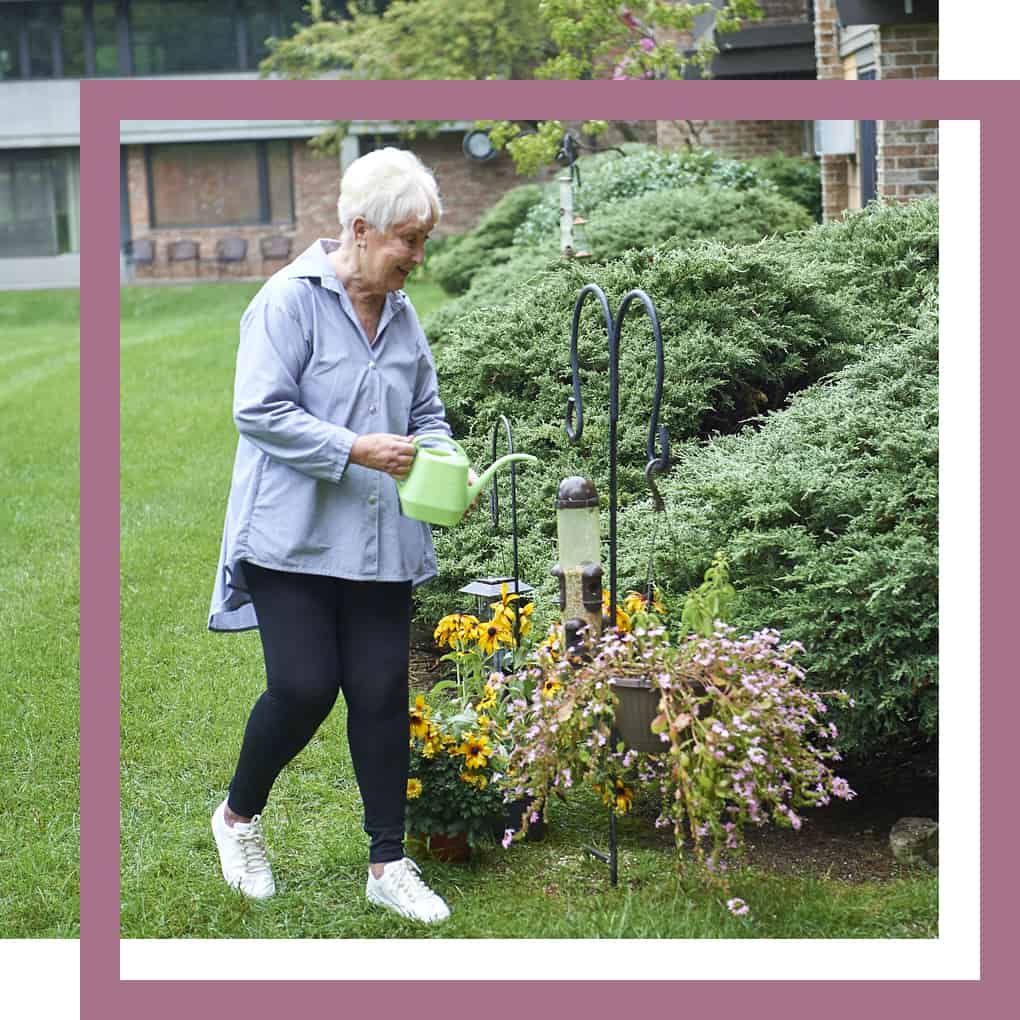 ---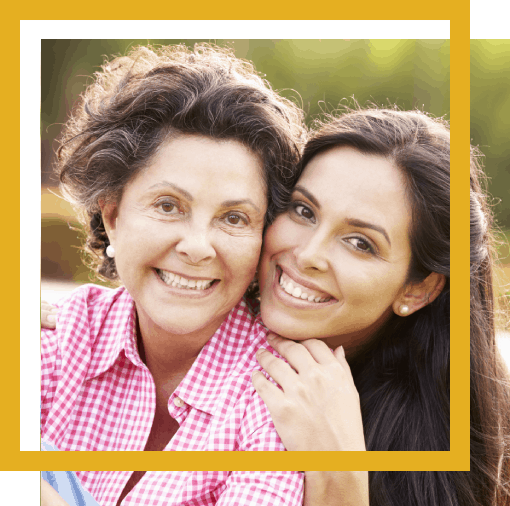 Bridge Program
Filling the gap from rehab to home
Sometimes healing takes a little longer than expected. If you're not ready to go home after being in the hospital or receiving rehabilitative therapies, Luther Manor offers a step in between. A unique option in Wauwatosa, our Bridge Program provides a safe place to stay with the extra help you need while recovering. It's also a great option if you can't be home for another reason such as a home remodeling project or temporary health issue.
During your stay, you'll have full access to the community's amenities, including our Take Thyme Café, Chive American Grill, Park Terrace Dining Room and Manor Mart convenience shop. We offer a broad range of enjoyable activities and programs. You're welcome to participate.
Here's a quick overview.
When you're ready, ask us for more details.
Accessible studio or one-bedroom apartment
Fully furnished, includes linens
Minimum stay is seven days
Access to Life Enrichment programming
Weekly housekeeping
Health monitoring and nurse consultation
Social worker support and discharge planning coordination
Help with activities of daily living as needed and as indicated by your care plan
Hospital bed and some durable medical equipment available if needed
Floor Plans

S200 ​
Large studio, 1 bath​
$133 a day

Full kitchen and dining area  
Living room area includes TV with basic cable 
Separate sleeping alcove 
Full bathroom with walk-in shower 
Faces south with a view of the courtyard and pond
Includes emergency response help button

U207 ​
1 bedroom deluxe, 1 bath​
1,100 square feet​
$177 a day

Full kitchen and dining area  
Living room area includes TV with basic cable 
Bedroom includes TV with basic cable  
Full bathroom with walk-in shower 
Faces north
Includes emergency response help button
O204
1 bedroom deluxe, 1 bath​
1,100 square feet​
$177 a day

Full kitchen and dining area  
Living room area includes TV with basic cable 
Bedroom includes TV with basic cable  
Full bathroom with walk-in shower 
Faces east
Includes emergency response help button
Affordable guest suites start at just $79 a night
At Luther Manor, we offer comfortable, high-quality guest suites in the heart of our community for far less than you would pay at a hotel. Our suites are open to friends, family and guests of Luther Manor residents, traveling medical staff, seniors visiting the local area, as well as those who are curious about what it would be like to live at Luther Manor.
Studio, one-bedroom, and two-bedroom guest suites available
Up to two full bathrooms in some suites
370 to 1,100 square feet
$79 to $129 a night, depending on size and style
Whether you're here for a night or two, a week, a month or more, you're sure to enjoy a comfortable stay in our fully appointed guest suites.
Guest Suite Amenities
Kitchen or kitchenette with microwave, coffee maker, toaster, dishes, silverware, and drinkware
TV
Alarm clock
Towels
Shampoo and soap (starter supply)
Toilet paper (starter supply)
Paper towels (starter supply)
Lovely views of our park-like community
For more information and floor plans, call us at 414.323.6937 or send us an email at [email protected].                                                                                          *Guest Suites not available at River Oaks*