We've been a part of the local community for 60 years, providing exceptional senior health services. We're proud to be a trusted resource for you and your family.
Whether you or your loved one is recovering from an illness or injury, needs support managing a chronic condition, or requires long-term nursing care, it's comforting to know that great care is available from our experienced, knowledgeable experts.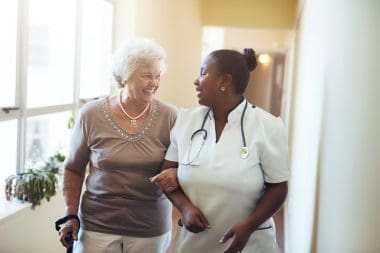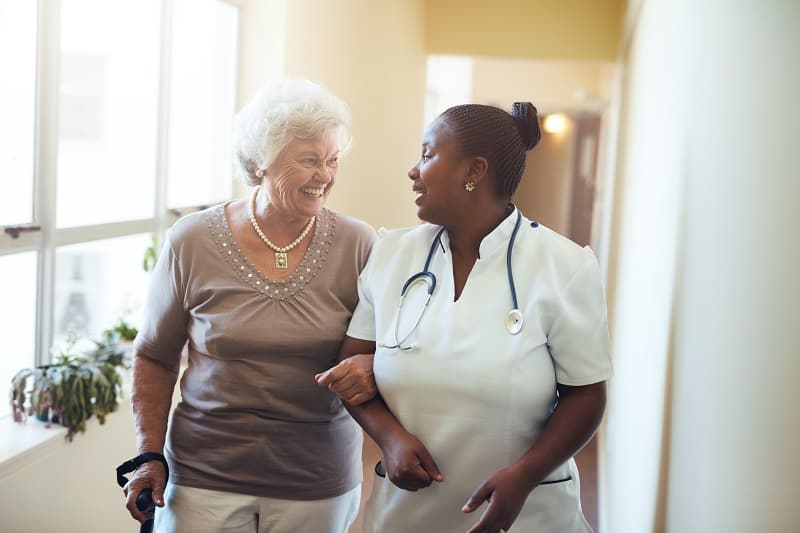 Health Services for All
At Luther Manor, we're here to serve everyone. Our health services are open to all. This means you don't have to be a resident to enjoy our expert care.
With all the options in senior health services, it can be challenging to know which one to choose. Here's a quick guide to the resources we offer.
Skilled Nursing Care
Skilled care is for someone who needs around-the-clock monitoring. It can be for a short stay after an injury or surgery or for the long-term, such as after a stroke or for those who need help managing a severe chronic illness. Highly trained nurses and caregivers provide care that is tailored to each person's needs and preferences. Dr. Ismail Quryshi of Froedtert Hospital serves as our medical director, and Katie Lammi provides primary care as nurse practitioner.
For more information about skilled nursing care, check out our blog about the difference between assisted living and nursing care and our other one on what you should know before choosing nursing care. In short, they're great resources when you're deciding on senior health services.
Rehabilitation Therapies
Most people think of rehabilitation after an injury, illness or surgery as physical, occupational and speech therapies. But it's so much more. It's the bridge from the hospital to your home, essentially whatever it takes to get you back to living your best life.
What does that mean, exactly? Our rehabilitative therapies encompass a broad range of care and treatments, from respiratory and lymphedema therapies to specialized therapies for those recovering from a stroke, spinal cord injury or other type of neurological condition. Our team of experts can even help prepare you for a faster recovery after surgery with our prehab program and continue to assist you with post-rehab wellness.
If you choose in-patient care at Luther Manor, you'll enjoy a comfortable stay in a private suite with a private bathroom, cable TV, Wi-Fi and personal laundry service.
Hospice Care
Hospice care is designed to help terminally ill individuals and their families navigate the last six months of their end-of-life journey. Focused on the person's comfort and well-being, our caregivers provide pain relief through medication, acupuncture and reiki massage, and emotional support through bereavement counseling, aromatherapy and art, music and pet therapies.
If you or a loved one are terminally ill, please know you don't have to face this alone. You can call us at (414) 847-3041. As a non-profit, we provide hospice care and support for all people regardless of age, nationality, culture, religious affiliation, immigration status or ability to pay. Grounded in faith, we're here to help you make these last days as peaceful and meaningful as possible.
Want more details on our senior health services?
Call us today at (414) 434-3880 or send us a note through the form below. We'll be happy to answer your questions and walk you through all of your options.