When it comes to seniors learning new things, the number of trips you've made around the sun is irrelevant. Plenty of people in their 70s – and decades well beyond – use their advanced years to learn a new skill and accomplish first-time and other extraordinary feats.
Many new skills seniors love to learn are centered around pushing themselves physically. William Ivy Baldwin walked a tightrope across a canyon at 82. Betty Goedhart became a trapeze artist at 78. Teiichi Igarashi climbed Mount Fuji at 100. Dorothy Davenhill Hirsch hiked to the North Pole at 89. Gladys Burrill ran a marathon at 92.
Other skills seniors love to learn are focused on expanding their knowledge and exploring ways to make a mark on the world. John Glenn headed to space at 77. Peter Roget published the thesaurus at 73. Bertha Wood published her first book at 100. Theodor Mommsen earned the Nobel Peace Prize in Literature at 85. Nola Ochs earned her bachelor's degree at 95. Nelson Mandela ran for president at 75.
There's no time cap on discovering your inner artist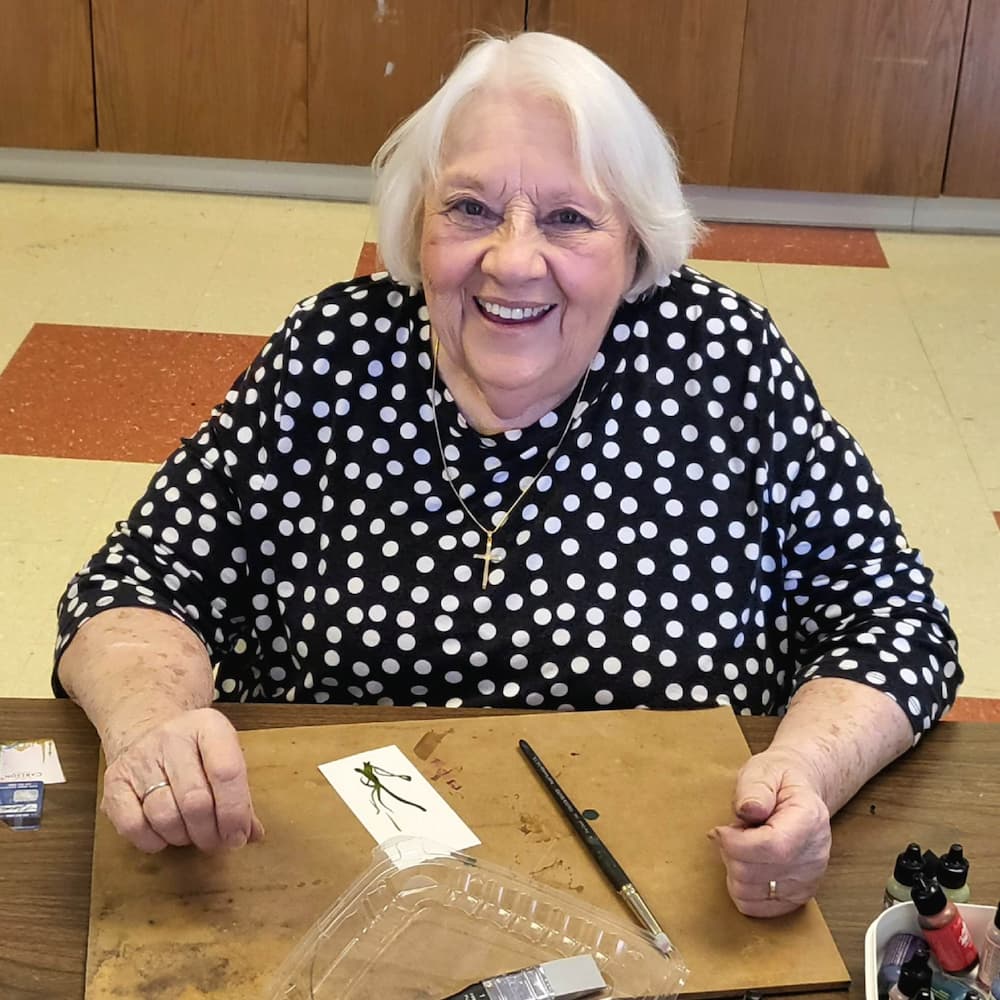 Another example of "age is just a number" is Anna Mary Robertson "Grandma" Moses. Although she didn't pick up a paintbrush until she was 76, she had a successful career as a renowned American folk artist and has a painting hanging in the White House.
Luther Manor residents also are tapping into their creative sides later in life through Life Enrichment programs offered at our crafting and creating center. It's a popular community amenity that's both welcoming and laid-back — an ideal setting for seniors learning new things.
Residents Pam and John Stockbridge said they have "zero art talent" and never took art classes except as a "disaster" college requirement. "But we recognize that as we age, we need to challenge our brains to learn new things and socialize while knowing that if we try a new activity, there's no pressure to continue if it's not a right fit," Pam said.
So the couple started taking watercolor painting classes taught by fellow resident Nadine Peters, who's also an accomplished artist. It wasn't until after her children were grown that Nadine had the chance to attend art school. "I completely absorbed myself in art, taking every class I could in every art medium."
Over the years, she has taught art classes, held workshops and shown her art in galleries — and now Nadine is bringing her love of art to other residents. Pam described Nadine's instruction style as kind, patient, accepting and fun and said the couple was surprised they could paint something closely resembling what they were attempting.
"We're trying something new, expecting failure due to the past, and learning to get better results than expected," Pam said.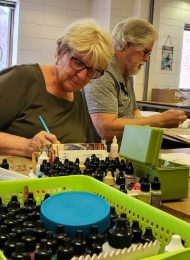 In Nadine's art classes, there are no mistakes, only happy surprises. "If the desire is there to be creative, you will learn that there is no right or wrong when you are creating art," she said. "Remember, art is a way of expressing yourself."
Class projects in watercolor painting have included composition, perspective and color theory. "Happy Accidents" happen in numerous experimental projects. Plans for linoleum block painting and collage classes are in the works.
During one session, residents learned how to paint with shaving cream, credit cards and colored alcohol ink. "That was a fun day," Pam said. "Sharing with others in the class, laughing at some of our attempts and getting positive feedback makes the class so enjoyable."
Nadine has many art project ideas and is eager to teach residents other new skills seniors love to learn. "If you have the desire to study art, you will learn to love it as much as I do," she said. "I can't tell you how incredible and rewarding this is. I have been given the gift of artistic talent by God and it is a blessing that I can continue to share it with others."
Tips for seniors who are hesitant to step outside their comfort zone
In May, Luther Manor's newest resident artists will accomplish their own first-time feat when they see their work on display at our community's art show. Pam and John said they feel "blessed" by the variety of life enrichment choices offered and the staff and residents willing to share their talents.
The couple also offers some advice to older adults who may be hesitant to try something new:
"Challenge yourself to attempt one new activity or learning presentation each month. The aging brain needs to work to develop new synapses through new things."
"Socialization from activities has been proven to be vital for aging. Trying something once is a single commitment. If you find it's not something you want to continue, you don't have to do it again."
"If someone keeps inviting you to do something you know you don't want to do, say, "no, thank you." One person may love an activity, but that doesn't mean you have to as well. There are copious opportunities to try something new, and you are the person to decide what it is."
"If your first attempt doesn't work out, don't give up. Try a new one. After a couple of months of something new, you may be surprised at your success and enjoyment."
Reimagine and rev up your retirement
What is retirement really like? At Luther Manor, it's an energized, purposeful and rewarding lifestyle. Want to travel? Spend more time in nature? Write a book? Start a club? Give back to others by volunteering your time and talents? Expand your social circle? Jumpstart your fitness routine? Explore your creative side? Focus on your lifelong learning journey?
Luther Manor's abundance of choices and opportunities makes it all possible. Give us a call at (414) 464-3880 or email us to learn more about our senior living community and all the ways we can help you reimagine and rev up your retirement.