For more than 60 years, Luther Manor has been a trusted resource for expertise in senior living for older adults and their families from Wauwatosa, Milwaukee, and the surrounding area. This not-for-profit, faith-based community serves people of all faiths in its holistic approach to caring for the mind, body, and spirit within an inspiring lifestyle of personal fulfillment. It's our privilege to provide a senior living checklist that will help you and your family make an informed decision about a community that fits your lifestyle and budget.
So, Where Do You Start?
Reasons, needs, and wants for choosing this lifestyle change will vary from senior to senior. You may desire something smaller or a place with more services, like:
a maintenance-free lifestyle
a community with neighbors and an opportunity to make new friends
an environment that offers amenities, scheduled activities, events, and socialization
a place that offers future support and care
Many seniors want all of this. It's important to have a good feeling for what you want before you start seriously looking. Make a list of your wants and needs—NOTHING is too trivial!

Know The Type Of Community You're Looking For
Most seniors today are choosing community living more for the lifestyle than the need for care. However, medical needs—even for the future—can be a real qualifier. In fact, the U.S. Department of Health and Human Services reports that about 70 percent of individuals over age 65 will need some form of long-term care. Here are the most common types of senior living communities and their basic offerings:
Independent Living Communities
They eliminate the burden of homeownership so that you can focus on your interests and your physical and emotional health. Here there are many opportunities to make new friends, too. This could be a good fit if you're currently in good health.
Assisted Living Communities
Here you can live independently but with a little more help. If you're having trouble managing daily medications, with mobility, or personal tasks of daily living, assisted living offers a good solution.
Skilled Nursing Care
These communities offer nursing care for people with more complex or full-time needs—either long-term or short-term for those recovering from injury or surgery.
Make Your Senior Living Checklist
You've probably already gathered brochures and studied your options online. Chances are you've also talked with friends and acquaintances about communities of interest to you. Now it's time to get out there, make some appointments, and see these communities for yourself.
Start by calling those options on your "shortlist." Communities coordinate tours all the time and will arrange a time that best fits your schedule. In six common categories, here are a few specific things TO DO and TO ASK during your onsite tours:
THE LOCATION & PHYSICAL FEATURES
To Do:
Tour the entire community—inside and outside.
Check the lighting as you tour—inside (soft and inviting) and outside (well-lit and safe).
Make sure the community appears clean and well-maintained. What does it smell like?
To Ask (Yourself Or The Community):
Does the community have a unique location that makes it more desirable (near a university, park, walking trails, etc.)?
Is the surrounding neighborhood desirable with conveniences nearby—grocery stores, pharmacy, public transit, hospital, etc.?
Are there special safety design elements in the residences, common spaces, and exterior areas?
Does the community have the lifestyle amenities—inside and outside—you're looking for?
Would you be proud to call this community home?
YOUR PERSONAL SPACE
To Do:
Tour several floor plan options—ask for printed floor plans to take home.
Take note of the views. Do you prefer a view of sunrises or sunsets?
Observe residence proximity to elevators, stairs, dining and activity centers.
To Ask:
Will you be able to redecorate to your personal tastes?
Will there be room for everything you want to bring (recliner, sewing machine, favorite desk, etc.)?
Are the residences equipped with emergency response systems?
What utilities (telephone, cable, internet) are included?
What services are available—Housekeeping? Laundry? Salon services?
Can you plan an overnight stay to get an even better feel for the lifestyle?
Are pets allowed?
Can guests visit and stay overnight?
Are there related costs to you for overnight guests and/or guests for meals and events?
Can you picture yourself living in the residence you like best?
COMMON AREAS/SOCIAL ENVIRONMENT
To Do:
Observe the residents. Do they seem happy and well-cared for?
Ask for copies of activity and event calendars as well as life enrichment program descriptions and any community newsletters.
Plan for a lunch meeting to get an idea of the dining experience. Are there residents who can join you?
Get copies of the daily menus from all dining venues.
Request that your name is added to the event invitation list so you can experience onsite social gatherings.
To Ask:
Is the community well-designed for your needs and easy to navigate?
Is the décor updated, attractive and homely?
How many dining options are there and when are they open?
May residents request "take-out" meals to eat in their residence?
Is the social environment appropriately resident-centered? Do residents have input and choice when it comes to social events, dining/menus, and community protocols?
Are there appropriate safety features like sprinkler systems, smoke detectors, and well-marked exits?
CARE MODEL/LEVELS OF CARE
To Do:
Make sure you tour all the onsite levels of care, even though you may be currently interested in only independent living.
To Ask:
What levels of care does the community offer?
Is there a medical center or medical staff available for in-home visits in independent living?
What is the community policy for the storage and administration of medication?
As needed, is there a written plan of care designed for each resident? How is this initiated and how often is the care plan reviewed?
FINANCIAL STRUCTURE
To Do:
At Luther Manor, use the community's valuable MoneyGauge tool to help you determine which residence best fits you financially.
Ask for copies of the Residency Agreements and any supporting contractual/financial information.
Make sure you leave with state-mandated accreditation information (state licensing) included in the resources from the community.
To Ask:
What is the payment or billing model?
How is the pricing model structured for each level of care?
Does the community accept long-term care insurance? Medicaid?
What are the move-in/move-out policies (refunds and transfers)?
COMMUNITY STAFF
To Do:
Observe the staff. Do they treat each other in a professional manner? How do they interact with the residents?
To Ask:
Is the staff courteous? Did they greet you and know your name when you entered?
What type of staff training and background checks are conducted?
Is there a community process for suggestions and complaints?
---
---
A Strong Reputation As An Area Resource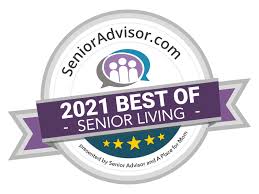 Luther Manor has a strong reputation and positive reviews from residents and their families throughout its more than 60 years in senior living. As a resident, you can be assured your future will be safe and secure. In fact, Luther Manor was recently recognized by SeniorAdvisor.com as one of A Place for Mom's 2021 Best of Senior Living Award winners. This exclusive award is given to only the top 3% of senior care providers in the US and Canada.
Consider Luther Manor
Two of our recent blogs, What to Look for in a 55+ Community and Myths vs Truths When It Comes to Senior Living, will offer more helpful advice. Additionally, Harvard Medical School is a great resource for even more questions to ask during your site visits. Here at Luther Manor, we'd also love to answer any questions you may have.
Schedule a virtual or private in-person tour by contacting us online. Don't forget to like us on Facebook to stay in touch with the Luther Manor lifestyle.