Imagine a life where you have opportunities every day to get together with friends and enjoy your common interests. Maybe you like to learn about history, tend to a garden, sing in a choir, play cards or darts, participate in a Bible study group, reminisce about years gone by or express your artistic side. Picture a day where you can start the day off with some exercise on the patio or a water aerobics class within easy walking distance. Where someone else does the cooking when you don't want to, and all the maintenance on your home is taken care of—which frees up more time for your passions. That's what life could be like if you lived at Luther Manor, a place where fun and friendship await.
If you thought of Luther Manor as a nursing home—the kind of place where your grandparents might have lived many decades ago, this couldn't be further from the truth! We want you to know that times have changed. While it's true that Luther Manor offers skilled nursing in our health center, as well as hospice services, there's so much more to our community.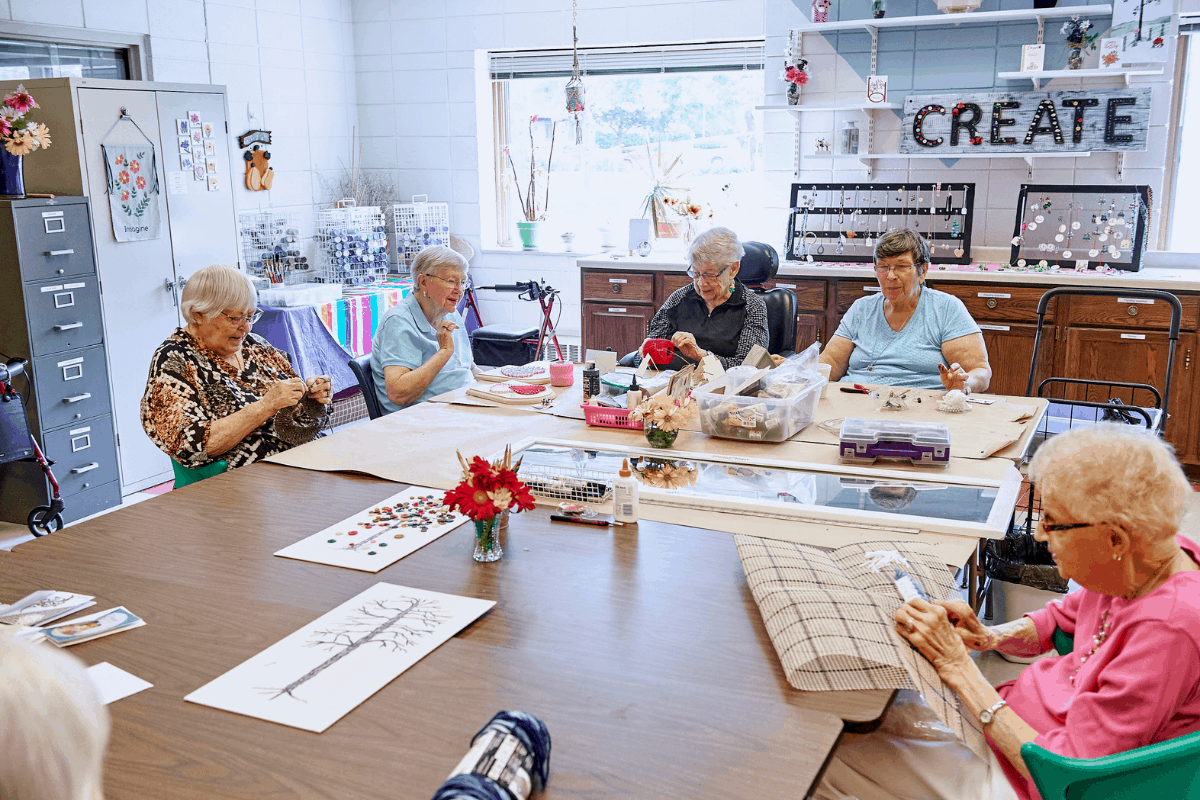 A New World To Explore, Right Outside Your Door
When you join Luther Manor as a resident of our independent living community, you can continue to do all the things you love. In fact, most people who become part of our community find that a whole new world of possibilities opens up to them.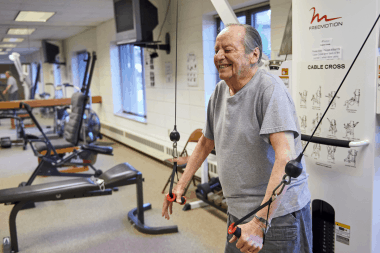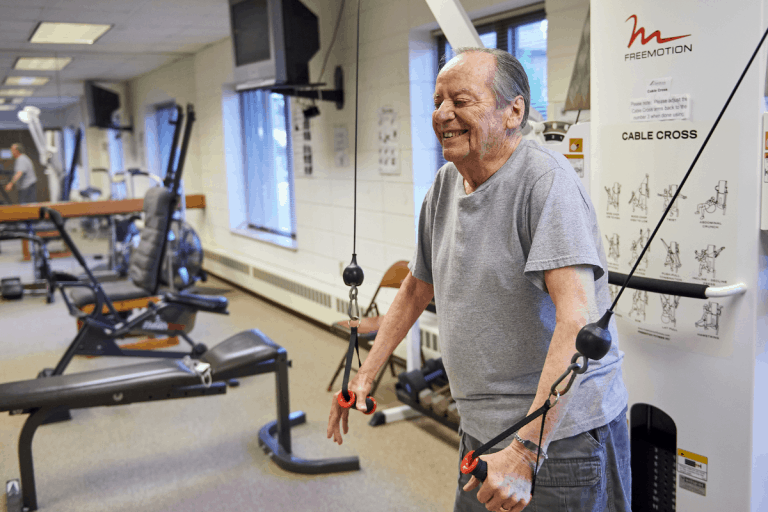 For example, some older adults are hesitant to go to a neighborhood fitness facility because they think they won't fit in, or they're concerned that the classes might be too strenuous. But here at Luther Manor, the classes are tailored to those who attend, whether it's a fitness and balance class or chair yoga in the Redwood Room, or aquatic exercises in the pool. And, the exercise equipment is designed specifically for older adults to minimize the risk of injury.
For those who enjoy a different sort of physical activity, the Life Enrichment calendar includes options such as bocce ball, shuffleboard and Wii golf. And for those with green thumbs, you can garden in the raised flower, vegetable and herb beds. Even just walking around our beautiful, secure 19-acre campus is a delight.
Living here also provides ample opportunities to make friends and discover new interests. There are more than a dozen clubs at Luther Manor and many of them are led by residents, including the veterans club, the men's club, several knitting clubs, bingo groups, card groups and the choir group. If by chance there isn't already a club in a particular area of interest, residents are always encouraged to start one!
Connect With The Community
For a change of pace and scenery, many residents like to go for a jaunt off campus every so often. We're happy to say that we have been able to resume some of the outings that were a regular part of the activities calendar pre-COVID. As safety precautions permit, we'll gradually add more outings to the schedule, including trips to:
Restaurants
Theater and symphony orchestra performances
Brewers games at American Family Field
Museums
Festivals
The farmers market
Other local venues
Everyone is different, of course, and if you prefer quiet days spent reading and watching your favorite shows, you are more than welcome to continue doing that. With all there is to do here, though, don't be surprised if you decide to branch out and add some other activities to your daily routine.
Ultimately, as Shari Garza, a life enrichment coordinator at Luther Manor, says, "It's not about filling the day. It's about making each day fulfilling."
The Four Cornerstones Of Life Enrichment
1. Social
2. Cognitive
3. Physical
4. Spiritual
Luther Manor takes a holistic approach to well-being. We focus on residents' social, cognitive, physical and spiritual needs so they can stay as healthy as possible. We've already provided examples of how we address the social and physical aspects, and many of those incorporate a cognitive component as well.
Learning helps to keep the mind in good health. Just recently, we've started to invite guest speakers back into the community for presentations on a variety of topics. Even last year, when we had to close our campus to visitors, we used our internal, campus-wide broadcast TV channel to engage and entertain residents in independent living, assisted living and the Health Center through Caps for IL and AL top programming, such as:
Worship and prayer services and Bible study sessions
Travel, biographical and nature documentaries
Trivia contests
Cardio and strength-training classes
Classic TV shows and music
Our community is big on volunteerism, too, and that often touches on all four cornerstones. For instance, we have a bazaar each fall to raise extra funds for some of our larger community events. Many residents work on crafts throughout the year to sell at the bazaar. Others knit scarves, make Yooper sticks or bake cookies and other goods to sell.
Residents also volunteer to help with outside organizations like Street Angels, which assists people who are experiencing homelessness. In the late summer/early fall, we host a drive to provide backpacks filled with school items, which are donated to local schools. These are ways in which our staff and residents at Luther Manor can give back to the community around us.
Last, But Far From Least
Any discussion of the lifestyle at Luther Manor would be incomplete without a mention of the security that comes from living in a Life Plan Community. It may not be something that residents think about specifically, at least not regularly, but the peace of mind that comes from knowing they have a plan in place for the future reinforces the entire way of life here.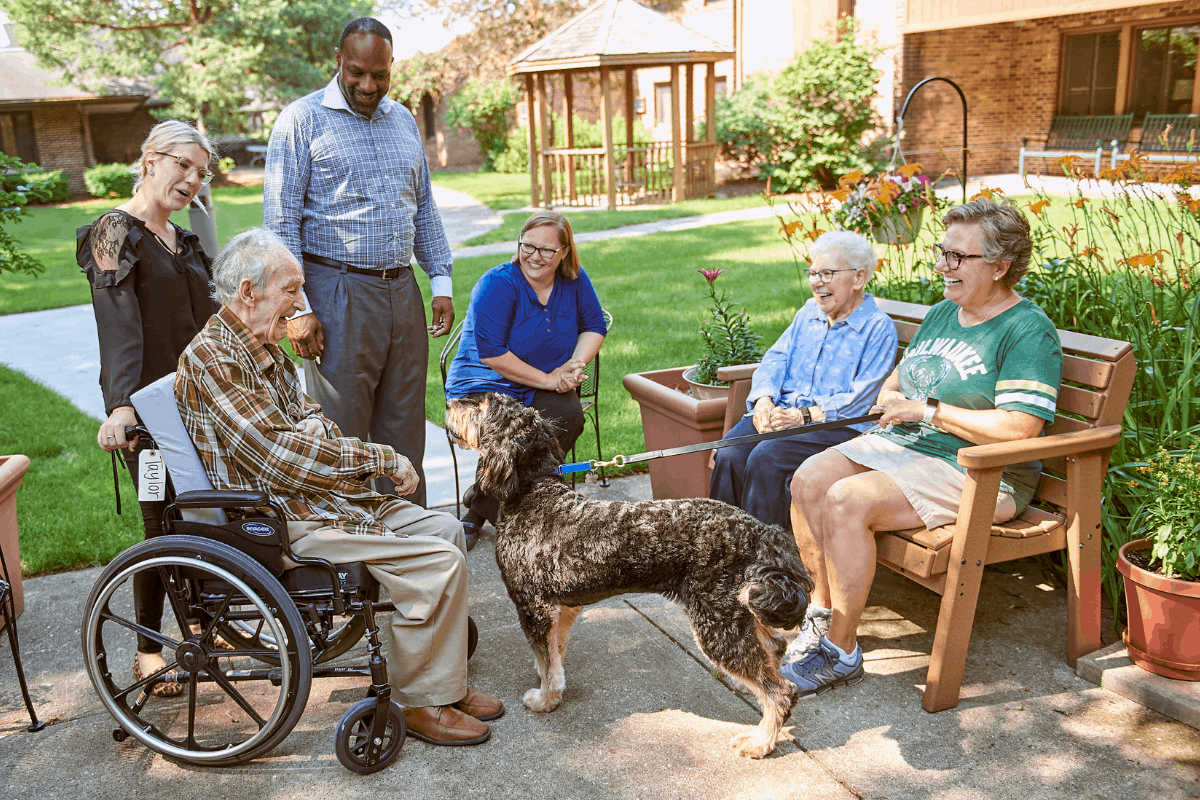 It's a tremendous relief not to worry about whether you'll be able to afford the care you might need later on or whether your children will have to take care of you.
You can see that when you eliminate those concerns, and you no longer have to worry about home maintenance issues (because we take care of all of that for you), you're free to enjoy everything else there is to love about living at Luther Manor.
Interested In Learning More About The Luther Manor Lifestyle?
We could go on and on about why we think living here is so great, but the best way for you to find out whether our community is the right move for you is to schedule a tour. We're offering private in-person tours again, and a virtual tour is always an option if you would like to check us out that way. Contact us to set up a time for either type of tour.
You can also keep up with what's going on at Luther Manor by following us on Facebook. We love posting photos and updates about recent events, and "liking" us is an easy way to keep tabs on upcoming events.
We hope to hear from you online—or see you in person—soon!