Send a Note of Encouragement to Our Residents & Staff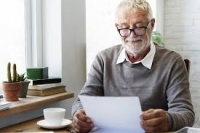 One of many challenges our residents deal with during the COVID-19 virus is the loneliness that comes from being isolated. Our staff is working tirelessly to protect and care for everyone who calls Luther Manor home. They could use some encouragement as well. In both cases, you can help fulfill Luther Manor's mission to "share God's love by enriching the lives of older adults" – and those who care for them!
By clicking the button below, you can write a note of encouragement to a resident or staff member at Luther Manor. Whether it be to someone specific or someone most in need of a kind word, we will make sure that your email gets to the right person. Feel free to attach pictures, kids' drawings or anything else that might brighten someone's day!