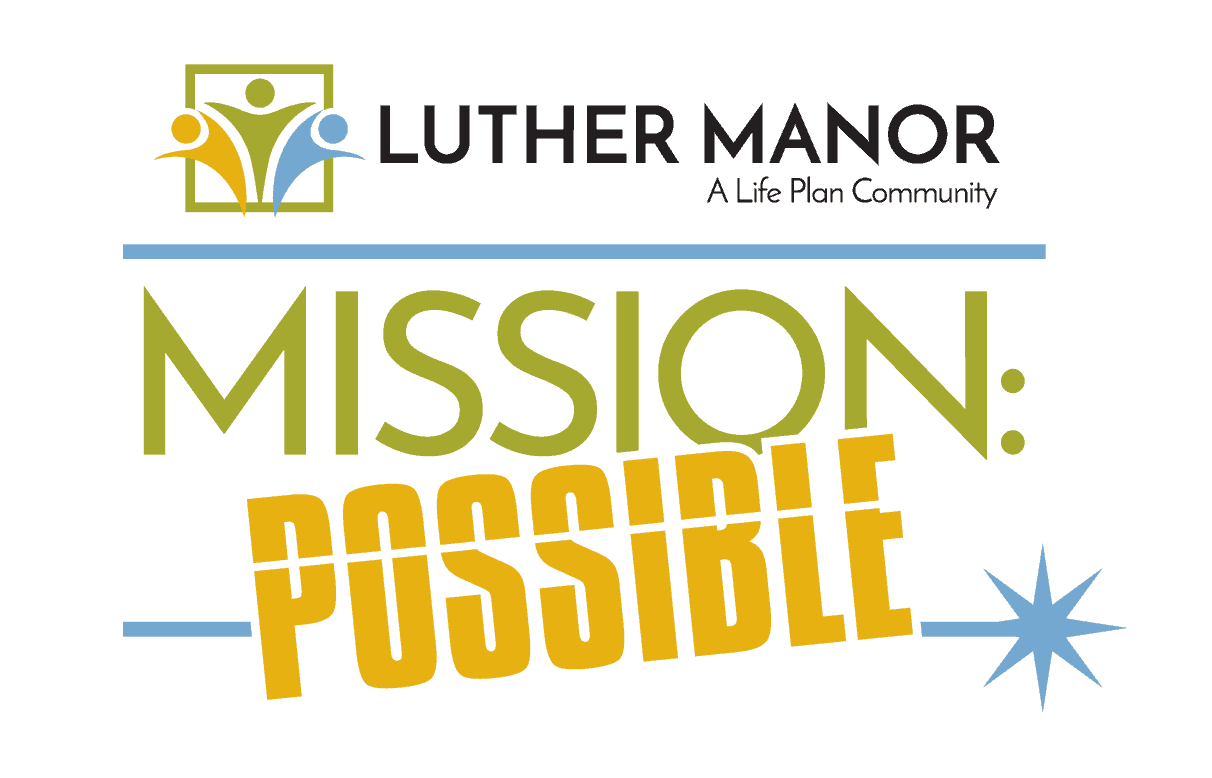 Mission Possible
Luther Manor's mission is to "share God's love by enriching the lives of older adults." Below is a collection of some short video stories which highlight the incredible people who make our mission possible!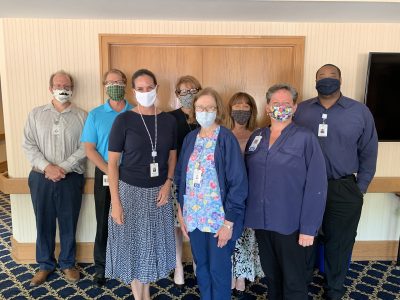 July 2020
Lori Pelnar's responsibilities as a Clinical Educator require her to consider the quality of life for Luther Manor residents and the continuing education of staff who care for those same residents. According to her manager, Dianna DeMond, Lori consistently goes above and beyond those responsibilities while living out the mission of Luther Manor.
In recent months, Lori creatively led the way in planning and coordinating important educational training events – COVID style – to the praise of 100s of nurses and Luther Manor staff. Additionally, Lori routinely deploys a keen eye to assist busy staff in ensuring supplies and equipment are stocked and readily available, also watching for areas where the education department can add to their curriculum on a real-time basis. Lori jumps in anywhere she is needed, including serving as a COVID screener on a regular rotation.
Dianna replied, "Lori is driven by genuine compassion and she strives for accountability for herself and others at all times. She treats everyone with respect and makes everyone feel as though they matter. She is accommodating, professional, and her integrity and talents show her service to God in every way. I feel incredibly blessed to have such a special teammate to work closely with every day!"
Join us in thanking & congratulating Lori and making our Mission Possible!
June 2020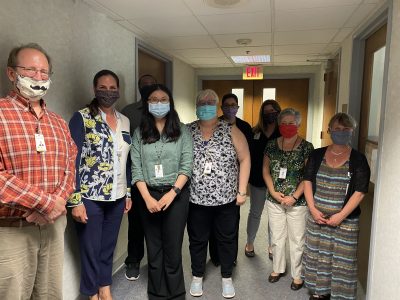 All of us are asked to take on additional responsibilities from time to time. It's how we respond to such opportunities – with a willingness to help however we can – that truly matters. Add a smile to that helpful, can-do attitude and you have Wendy Wang, Staff Accountant at Luther Manor!
When there was a need for a payroll specialist on Luther Manor's finance team, Wendy did not hesitate to jump in and learn payroll, in addition to her regular accounting responsibilities. These extra duties and extra hours meant that employees were paid accurately and on time – which means everyone was happy! 
If that weren't enough, Wendy used her connections in China to make sure that Luther Manor had extra masks & PPE to help carry us through the COVID-19 pandemic as healthily and safely as possible. 
Join us in thanking Wendy for showing respect and compassion, while demonstrating that everyone matters. By being willing to learn something new, saying "yes" to a challenging request and finding ways to go above and beyond, Wendy has made our Mission Possible. Congratulations!
May 2020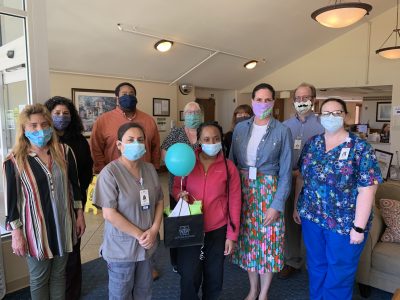 "If you could eat anything in the world, what would you eat?" How would you answer such a wide open question? That is exactly what Bre, one of Luther Manor's awesome CNAs asked Billy, one of our Health Care Center residents this past Easter. Easter Sunday in the middle of a pandemic where no one can visit is hard enough – but it was also Billy's birthday. 
"Steak & eggs" was his answer to her question. "How would you want it cooked?" Bre asked. "Medium rare – and my eggs over easy," he said. Billy had no idea what Bre was cooking up (pardon the pun!). Bre then headed out to a local restaurant during her break and bought Billy the very meal he had requested, a birthday balloon, and presented it to him in honor of his special day. 
Join us in thanking Bre for showing great compassion, an incredible respect for our residents and finding a beautiful way to offer service to God by serving others. In honor of a celebratory day that was difficult and lonely for Billy, Bre made our Mission Possible. Congratulations!
April 2020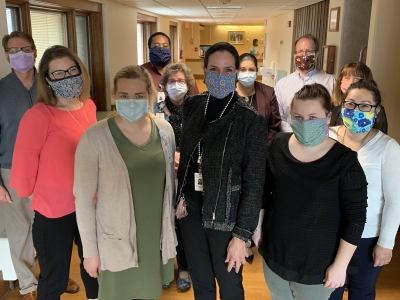 Change, no matter your age, can create stress and uncertainty. However, when approached with empathy and a helping hand from someone who cares and will navigate that change makes all the difference. That's exactly the role that Luther Manor social workers, Lauren Heller & Kathleen Cleppe, played in the lives of our residents & families when one of our buildings was slated for another use.
They worked directly with every family on a transition that addressed resident preferences, included in-person meetings and tours, careful packing and unpacking of belongings, and ongoing communication all while taking into consideration what was best, medically speaking, for every resident. In addition, they coordinated a team of staff to ensure the transitions were a success and residents were welcomed into their new areas.
Join us in thanking Lauren & Kathleen for showing true compassion, respect for the residents and their families and demonstrating that truly everyone matters. In the midst of change, Lauren & Kathleen made our Mission Possible. Congratulations!
March 2020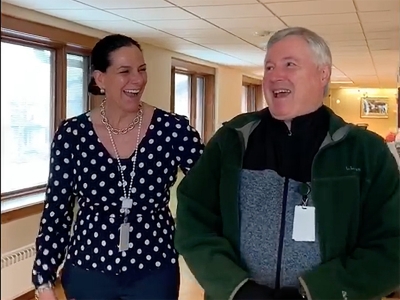 Brian Bernhardt, one of Luther Manor's drivers, is known for this easy going nature, kind helpful manner and for going out of his way to make a resident's life easier. His work driving both the bus and medical transport van have him engaged with residents from all of our program areas.  He's always ready, willing and able to assist with a trip to the mall (before they were closed), a show (before they were cancelled) or a doctors appointment (only essential ones now).  That was the case recently when he assisted a resident in the HCC with a trip to the VA.
The scheduled VA transportation didn't show up and Brian was asked to take the resident even though it was at the end of his shift.  After settling the resident and meeting the family, Brian returned to Luther Manor to end his day – or so he thought. Ultimately, the resident decided to return to Luther Manor that evening. Not knowing who to turn to, the family called Brian who returned to work and assisted the resident back. In an email from the family, they described a "roller coaster" of a day full of uncertainty and emotion but one that Brian helped to take the stress out of.
Join us in thanking Brian for his Compassion and Accountability, the Respect he shows Everyone because they Matter and his caring, emphatic heart in Service to God.  Even on "roller coaster" days, Brian makes our Mission Possible.  Congratulations Brian!